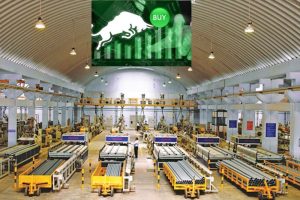 Supreme Industries, One of India's Biggest Plastic Processing company has been the biggest beneficiary of lower global crude prices, which helped margin improvement as well as capacity utilization in a big way.
Supreme Industries has Improved capacity layout, solid cash flow, Stable balance sheet, priority on value-added products, and distribution reach makes it an interesting business to look at. Though its earnings trajectory is led by better consumption demand and infrastructure expenditure, the share price of the company is trading at a healthy premium to the market.
Subbing metals and wood with plastic in different applications, and development in consumer durables, automobiles, agribusiness, packaging, and construction are required to drive the utilization of plastic items in the nation.
Supreme Industries Limited (SIL)
Supreme Industries Limited (SIL), is one of the Largest plastic processors in India with massive sales of more than four lakh tons every year.
In the midst of the current market instability and bloodbath on Dalal street, fundamentally-sound stocks have significantly corrected and Supreme Industries was no exemption. The stock has plunged from its year high of ₹1,476 to a 52 week low of ₹773 on 3rd April 2020.
The organization has a superior enhanced arrangement of plastic items in comparison to its competitors, and state of art distribution offices and manufacturing plants. SIL has a market share of around 12 percent in the fragment it operates.



The pipe fragment contributes roughly 52 percent of income, packaging 16 percent and industrial 19 percent, with different business domains representing the rest.
Value Added Products
The organization is the pioneer in the piping business and has an expansive product portfolio of more than 7,000. With GST and demonetization inconveniences winding down, improving demand in affordable housing, infrastructure, and irrigation system forecasts well for the organization.
The crucial element to growth in the value-added products segment would be its diversification into value-added product catalog (adhesives, packaging, consumer products, CPVC pipes, etc), which deserve better pricing over hardcore PVC pipes. The actual portion of value-added products in FY19 so far is 38 percent of the overall sales. SIL is taking concrete steps to increase the share of value-added products to its total sales to 40 percent by FY20 by launching products in niche product segments.
SIL intends to raise its manufacturing capacity to 6,05,000 tons by FY19 against 5,70,000 tons in FY18. Effective operations on two new manufacturing plants each in Telangana and Rajasthan are getting executed pretty well.
Stellar performance
In the nine months of Financial Year 2019, net profit was 28 percent higher contrasted and the relating time of the past financial. Income was 16.5 percent higher in a similar period.



In the December quarter, SIL posted a net profit of ₹81 crores, down 22 percent from the relating past period. With a deteriorating rupee and rough cost at elevated levels for a large portion of the Third quarter, Margins shrank.
Raw materials costs, as a level of net sales, remained at 68 percent in the quarter against 65 percent in the comparing past period. Top-line developed by 10 percent, driven to a great extent by a 7 percent expansion in realization, while volume development at 4 percent was hit fundamentally by industrial and packaging product classifications.
Margins declined by 300 bps to 12.5 percent by virtue of inventory losses because of a decrease in key crude material costs. PVC costs, be that as it may, stayed stable.
Low crude material costs are probably going to proceed in the coming quarter and SIL hopes to recover some portion of the inventory losses in February and March. This will drive margins and volume off-take.
Tough Times Ahead
The packaging business saw a negative growth of around 4 percent. In Packaging, SIL is an Industry leader in cross-laminated films (Silpaulin brand) and protective packing.



Over the most recent two years, almost nine players have entered this section, whose items are 15-20 percent less expensive Silpaulin. This has prompted extreme rivalry and value disintegration.
SIL has embraced a three-pronged way to deal with counter this test.
It intends to enter new topographies, present a new variety of products, and increment portion of significant worth included items in the packaging section.
The industrial; fragment, which developed by 2 percent, was hit by the divestment of car business in the quarter. Tepid automobile demand and a huge slump in auto sales in the quarter likewise affected the performance of the organization.
SIL imports 50 percent of its crude materials. With global crude prices coming down and the rupee is strongly appreciated in the last quarter versus the dollar, polymer costs have tame down. In any case, any sharp ascent in polymer cost will influence the margins, if the price increase isn't passed on to the customer.
Supreme Industries, the 72-year old Mumbai based company was traditionally into textiles and garments trading business later decided to change their focus in 1966 by acquiring Supreme. However, they had zero knowledge and experience of plastics business and no exposure or skills of running a limited company, and only things they had in abundance was pure had business acumen. Supreme Industries is considered as one of the fastest-growing wealth creators in the last decade.