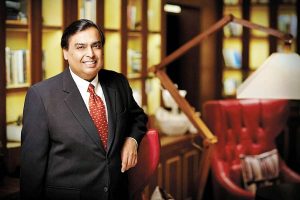 RIL to buy majority stakes in Den, Hathway for Rs 5,230 crore before JioGigafiber rollout.



RIL announced to acquire 66 per cent stake in Den Networks for Rs 2,290 crore and 51.3 per cent in Hathway Cable for Rs 2,940 crore.
Petroleum and retail Conglomerate Mukesh Ambani is continuing his expansion into India's entertainment industry through his Reliance Industries group, purchasing huge stake in leading digital cable television and broadband players Hathway Cable and Datacom, and Den Networks.
Reliance Industries Limited (RIL) has acquired a majority stake in cable operators Den Networks and Hathway Cable. RIL will invest Rs 2045 crore via preference shares, and purchase stake worth Rs 245 crore from existing shareholders for a total 66% stake in Den Networks. The company has also invested Rs 2940 crore via preference shares for 51% stake in Hathway Cable. However the deals are subject to SEBI approvals.
"We are glad to join hands with Rajan Raheja and Sameer Manchanda, two of the pioneers in the MSO industry. Our investments in DEN and Hathway create a win-win-win outcome for the LCOs, customers, content producers and the ecosystem," RIL Chairman and Managing Director Mukesh Ambani said. Through this transaction, Reliance Jio will be strengthening the 27,000 local cable operators (LCOs) that are aligned with DEN and Hathway.
Reliance and Jio will get direct entry to work with 27,000 local cable operators who are with Den Network and Hathway cable, according to a statement. RIL and RJIL will huge benifit of Hardware and back end infrastructure of Den Networks and Hathway Cables. Additionally they can also come into collaboration with content providers and producers.
INORGANIC GROWTH: Why to build your own when you can acquire?
Both Hathway Cable and Den Networks have an strong foothold and presence in the cable and broadband business.
As per the data:-
– Hathway had 770,000 broadband subscribers, after losing 30,000 subscribers in Q2FY2018. Its broadband revenue remained constant year-on-year in Q2FY2019.
– Hathway's ARPU also declined by 5.4% YoY. Hathway also counted 7.2 million cable subscribers in the quarter.
Den Network's rolled out its fixed line broadband services in 28 cities this year. Den networks has set target to reach 100 cities by this end of the year and had over 8400 subscribers as of June 30, 2018. More importantly, Den Network had a whopping 155 million cable subscribers in 2017; However broadband they are still working hard to gain some market share.
India's cable company stocks have fallen by about 15%-25% since Reliance Jio, India's largest telecom company by volumes, yesterday announced the commencement of its long-awaited fiber broadband and TV service from August 15.
It is feared that the company's entry can lead to widespread shutdowns and losses in the cable and broadband industry, similar to what was seen when it entered the wireless industry.
MASSIVE DISRUPTION IN CABLE TV AND DTH INDUSTRY
Reliance Jio owned and backed by India's richest person and most powerful businessman Mukesh Ambani, was working on a broadband-cum-IPTV service was hardly a secret, but what seems to have surprised the investors with setting up huge targets.
Against the 100 cities that Mukesh Ambani had earlier announced two years ago, the billionaire promised that the service will start off with 1,100 cities from Day 1. The main goal of Mukesh Ambani broadband venture is that they want a big bang entry and a strong presence at the time of launching its services against their competitors. Currently his main rival Bharti Airtel's broadband service has strong presence in 87 cities across India and the 12-city footprint of India's largest cable broadband operator Hathway Cable and Datacom.
However, its not matter of concern if the smaller cable and broadband companies play their perfect strategies and cards right to compete with Jio's GigaFiber and GigaTV.
GAME CHANGER FOR DTH INDUSTRY
The emergence of Jio GigaFiber has to be seen in the context of rising demand and popularity of the application – or software-based technology. Unlike the channel- or hardware-based format, the app format provides great advantages, the most important of which is ability to watch any program at any time.
TV shows, news videos and movies delivered on apps will be total flexible and can be consumed at a desired time chosen by the user, instead of the viewer having to accommodate his or her viewing habit to the time chosen by the format operator, as is the case with Television channels.
NEW OPPORTUNITIES IN BROADBAND, CABLE TV, DTH INDUSTRY
Remember that the companies were already facing tough competition from Reliance Jio: shares of both companies plunged when Reliance announced its home broadband services, JioGigaFiber. RIL announced the product in the company's AGM this July, although it had been pilot phase where they are providing this services in a few thousand homes. The company said that the connection speed will be 1 Giga bytes per second, which is as good as Google Fiber in the US, and ACT Broadband and Spectra's offering in some Indian cities. The company has set a massive target of 5 crore fiber connections.
Reliance is investing $400 million to take a 51% stake in Hathway, and $312 million for a 66% stake in Den. The deals will give Reliance access to 24 million homes. Reliance's existing Jio GigaFiber television and broadband service has plans to reach 50 million homes spread over 1,100 Indian cities.
Ambani already owns a controlling stake in the Network 18 group that operates several television channels and a film studio as a joint venture with Viacom. Reliance Industries also has a 5% stake in Bollywood studio Eros International and a 25% stake in production firm Balaji Telefilms.