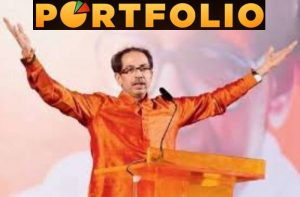 Five blue-chip companies have been identified which accounts for more than 90% of Maharashtra Chief Minister Udhhav Thackeray's portfolio in the listed companies. We witnessed that or Chief Minister has given the utmost priority to the Technology sector following his mega investments, with HCL Technologies accounting for Rs 1.9 crore of his Rs 2.9-crore portfolio.
India's Technology Giant HCL Technologies has been given major contributions in allocating funds in Maharashtra Chief Minister Uddhav Thackeray's portfolio of listed shares as of March 31, 2020.
The technology stock commands around 90 percent portion in his portfolio, or Rs 1.09 crore, of his Rs 2.09 crore listed stocks' portfolio, according to his maiden election affidavit submitted before the Election Commission of India.



Some of the Other companies in the top five spots are Reliance Industries, Maruti Suzuki India, Birla Corporation, and Kotak Mahindra Bank.
As per the data from the exchanges he is also holding a minor portion of shares in Anil Dhirubhai Ambani Group companies – Reliance Communication, Reliance Capital, Reliance Home Finance, Reliance Power.
The affidavit is currently available on the election commission web portal and was required to be filed online as part of his nomination for the Legislative Council election. The election is scheduled for May 21, 2020.
Few other companies with a lower weightage in his portfolio consist of ADF Foods Industries, Reliance Communication, Reliance Power, Gayatri Highways, and HFCL (Himachal Futuristic Communications Ltd). There are also a couple of government PSUs (Public Sector Undertakings), including ONGC (Oil and Natural Gas Corporation) and MTNL (Mahanagar Telephone Nigam) in his portfolio.
Rashmi Thackeray is currently serving as the editor of Shiv Sena party owned Regional Newspaper 'Saamana'.