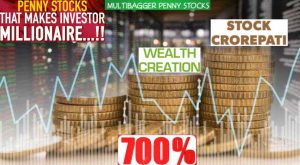 Majority of unknown stock and stock market listed companies names are creating huge investor wealth in this unpredictable and volatile market.
Some of this master blaster crorepati stocks are from among those that were exchanging hands below Rs 10 some time back, thus earning investors' stellar and surprising gains for their penny status, have all of sudden gone wild and crazy forward to deliver mind-boggling gains in the most recent share market rally from the lows of March 24, 2020, when Sensex and Nifty benchmark indices had been butchered to their fresh 52-week lows levels.
Indian Telecom Pioneer and one of the Leading Telecommunication company Vodafone Idea has shown marvellous performance, proven to be a strong contrarian bet as it surged more than 200 per cent to Rs 13.15 on June 9, 2020, from Rs 3.36 on March 24, 2020.
On the National Stock Exchange, average deliverable volumes of the telecom operator stock in percentage terms rallied to more than 30 per cent during the period from a one-year average of around 30 per cent.
Vodafone Idea most recently said it was consistently examining various opportunities and scope for improvement for improving stakeholders' value and build more trust and confidence.



Leading Brokerage House Ambit Capital previous month gave a 'buy' recommendation on the stock with a final target price of Rs 19. "The maximum upside will be greater if Vodafone manages to gain extra capital to invest in defending premium customers and hence expanding its market share," Ambit said.
Birla Tyres, a BK Birla group organization engaged in auto tyres & rubber products domain, has also delivered and witnessed an even more outstanding performance, almost rallying more than 700 per cent from Rs 2.78 to Rs 24.45. So, for example, the stock with an investment Rs 10 lakhs into Rs 1 crore within span of a few weeks.
Birla Tyres is a Business to Business core-centric business, with a strong foothold in light commercial vehicles (LPV), trucks and mining machines.
A couple of other small-caps that have bagged strong gains in this stock market rebound in included Alok Industries (400 per cent), Alchemist (up to around 650 per cent), Educom Solutions (more than 500 per cent), Opto Circuits (up to 500 per cent), Vikas EcoTeck (surged 350 per cent), Ruchi Infrastructure (rallied around 300 per cent) and Urja Global (blasted more than 250 per cent).
Bombay Stock Exchange (BSE) benchmark Sensex has risen more than 30 per cent from its 52-week low during this period, while BSE Midcap index has rallied only 32 per cent and BSE Smallcap index accounted to 37 per cent.



As most awaited earnings season also kicked off so we had also witnessed major Company Stock specific reasons also motivated market sentiments. For instance, bankrupt Textile firm Alok Industries saw a major turnaround after it was taken over by Mukesh Ambani's Reliance Industries in January 2020.
If you exclude Vodafone Idea, Alok Industries and Birla Tyres, all the below-mentioned stocks are still trading in smaller price range digits on Dalal Street. Penny stocks are usually seen as most risky bets in the stock market for their unpredictable volatility, smaller economies of scale, unclear business models, unknown business size and the huge amount of liquidity issues on their horizon.
Among others, JMT Auto, Andhra Cements, Sintex Plastics Technology, Siti Networks, GBL Industries, Brightcom Group, JCT, Emco, Manaksia Aluminium and Prozone Intu Properties have advanced between 150 per cent and 250 per cent in last 50 to 60 trading sessions means around 2 months.