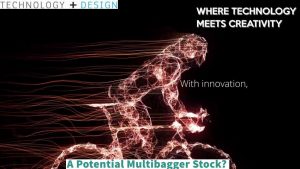 Design for Tata Elxsi is Not About Looks. We Visualise Products that Don't Exist.
It is that time when Visionary Madhukar Dev, ex-Managing Director of Tata Elxsi, said these golden words in a press conference, in 2010, almost no one trusted him that moment.
But for instance, if you go back in history, no one every trusted Steve Jobs, when he spoke…
Design is not just what it looks and feels like. Design is how it works.
Steve Jobs' vision for Apple was not just in terms of building and designing iconic products. But his passion and motivation about marrying technology with the design were unbeatable.
It will be incorrect to say that the stakeholders of Apple owe the meteoric rise in its stock price (100 baggers in 15 years) to Steve Jobs' obsession with design.
What if we imagine and predict that Madhukar Dev's vision for Tata Elxsi creates Apple-like fortunes in the coming decade?
The 'Elxsi' in Tata Elxsi comes from a supercomputer startup born at Stanford University in the 1970s. Elxsi supercomputer's architecture called for stringent conditions and high costs. But Elxsi had two early adopters in India, Tata Motors and Tata Consultancy Services. The Tata group wanted to bring Elxsi to India and applied for a government license in the 1980s.
That's how Tata Elxsi was born. It was one of the first companies to be launched by Ratan Tata after he took over as chairman of the Tata group.
Be that as it may, India's famous corrupted License Raj implied endorsements took eight years, by which time the supercomputer's equipment got out of date. In the United States, Elxsi got old. In India, Tata Elxsi had prominent customers, for example, the Oil and Natural Gas Corporation (ONGC) and the Defense Research and Development Organization (DRDO).



The consistent difference in innovation and departure of customers kept on frequenting Tata Elxsi till 2009. The greatest blow originated from its Japanese hardware and auto clients in 2009. Just barely gotten by the downturn, they pulled out their business surprisingly fast. Yet, in any event, during the troublesome years, Tata Elxsi continued structure its building and planning abilities. It recruited the best ability and developed the capacity of adjusting organizations across divisions.
Accordingly, when the monetary circumstance improved, the organization brought customers across businesses – from car to consumer goods – preparing future-ready products.
Tata Elxsi is presently headquartered in Bengaluru and utilizes somewhat less than 6,000 individuals across business divisions.
The organization infers around 55% of its incomes from Europe, 30% from the United States, and the staying from Asia (counting India). Tata Elxsi determines almost 90% of its incomes from structuring items for Logistics and transportation, broadcast and Telecommunications, media, and health domains.
It offers administrations for developing advances, for example, Big Data Analytics, Cloud, Mobility, Virtual Reality, and Artificial Intelligence.
In any case, the section that energizes me more than anything is the Internet of Things (IoT). This business is at present a little part of incomes yet can possibly get exponential development coming decade.
Big Data Analytics and Internet of Things to Be the Game Changer
Envision a world later on where an autonomous car gets you for work, plays your preferred playlist, and makes a brisk stop for your morning espresso. This, without you arriving at your wallet or your telephone. This is the way gadgets empowered with the Internet of Things (IoT), can change our regular day to day existence.
Not simply that. IoT could fundamentally quicken basic dynamics in regions like human services. For example, imagine a scenario in which your PCP could get to your information from different clinics or even your wearable gadgets while diagnosing and recommending treatment.
In spite of the fact that this may appear to be anecdotal until further notice, yet IoT empowered gadgets could before long make these a reality.
World over, governments, gadget makers, and law requirement offices are meeting up to make sense of how to profit by IoT while alleviating dangers.
The development openings in this area are boundless.



The Indian government delineated an arrangement to use IoT as a feature of the Digital India strategy. There is a Rs 70 bn spending plan to create 100 keen urban communities called 'Smart Cities', moderate water and power, and improve medicinal services, transportation, and security.
As per Assocham, the Internet of Things (IoT) market can possibly arrive at an incredible 2 bn associations and open US$ 11.1 billion of income by 2022 in India. The nation could rise a US$ 1 trillion digital economy by that course of events.
For example, Airtel Internet TV is India's first half breed DTH Set-top box fueled by Android TV. It is a mixture TV – a customary satellite TV that requires a dish and web TV with an inbuilt Google Chromecast that assists with survey content from sites, for example, YouTube, Netflix, Hotstar, and so forth. Tata Elxsi has created and incorporated key programming segments to guarantee that the Android TV application suite gives a consistent client experience whether the watcher gets to on the web or disconnected substance.
Associated innovation is one of the essential uses of IoT in human services. A decrease in holding up times at crisis rooms has additionally quickened its reception in clinical administration. Tata Elxsi considers medicinal services as one of the key IoT markets to be tended to in India.
The presentation to this developing business sector is required to sling this organization into a world-class gathering of high-income development organizations.
Scarcely any financial specialists know that this organization is piggybacking on this monstrous fragment… however, this won't remain the case for long.
In the coming months, speculators wherever could before long be racing to get in.
Presently how about we go to the key components that genuinely make Tata Elxsi a Potential Multibagger Stock
Important Factors that Qualify Tata Elxsi as a Potential Multibagger Stock
Only one out of every odd enormous effective organization has the components of turning into a multi-bagger stock.
Actually, most enormous organizations are at the fag end of the ringer bend as far as their development possibilities. Which is the reason they come up short on the capacity to keep reinvesting their profits consistently?



In any case, organizations that have a tremendous bit of leeway in riding an enormously large scale tailwind can reinvest profits for quite a long time. The most punctual investors of such stocks have the most obvious opportunity to turn into a multibagger Stock.
Tata Elxsi has, what I accept, are the key components of a potential Multibagger stock.
The organization is a leading dominant player and orders about 20% piece of the overall industry in the rigid plastic packaging fragment.
One of Tata Elxsi's show-stopper ventures consolidates standards from IoT, electronic gadgets, and Big Data to change human services. In three European nations, the organization is leading preliminaries with wearable gadgets for patients at home. The gadgets help clinical professionals remotely screen pulse and sugar levels, yet patients can likewise utilize them to require a rescue vehicle in a crisis. At another level, the gadgets create a tremendous measure of information by following the patient's body capacities, which specialists can use to improve future treatment systems.
Along these lines, the huge full-scale tailwinds for configuration drove advancement can permit Tata Elxsi to compound investor riches, at an exponential rate, for a considerable length of time to come.
Trusted Backing and Strong Ownership of Tata Group
Organizations inside the Tata Group, which range from salt to steel, are a perfect stage to try out Tata Elxsi's skills.
When Tata Motors propelled the vehicle Zest in August 2014, Tata Elxsi purchased a model and conveyed six specialists to disassemble it. At that point, they changed over it into a vehicle that could be driven from the front left seat, rather than the standard right, utilizing a console. Tata Elxsi then changed over it into an independent vehicle for Tata Motors. The activity was intended to set up that the engineering was adequate for the vehicle to be self-driven.
For Tata Power, another gathering organization occupied with power age, transmission, and conveyance, Tata Elxsi has built up a fitting that interfaces remotely to the Internet and can be controlled remotely.
Past the jam-packed buyer wellness portion, Tata Elxsi built up a wellbeing wearable watch for the laborers of Tata Steel to diminish shop floor wounds.
Along these lines, the help of gathering organizations is an enormous positive for Tata Elxsi to investigate new item variations.



The promoters (Tata Investment Corporation and Tata Sons) have a solid 44.6% stake in Tata Elxsi. All things considered, the organization is expertly overseen driven by the Chief Executive Officer Manoj Raghavan (the past head of embedded product design) who has as of late succeeded Madhukar Dev.
Tata Elxsi's structure abilities, for example, are not simply applied in item production. In any event, for its bundling customers such as Unilever's Clinic Plus cleanser, GSK's Horlicks, and Indian Oil's Servo Lubricants, the organization engages with the entire flexibly chain. It plans where the crude materials originate from, what amount is utilized and how the processing plant is designed.
Tata Elxsi's center skill, information, and connections in shopper gadgets assist it with associating designers with customers. State, a designer makes applications for brilliant TVs, Tata Elxsi can help TV producers plan menus or set-top boxes that are good with those applications.
It's for this reason, Tata Elxsi's client base spans across government, government agencies, Multi-National Corporations, and private sector enterprises. To name a few…
• Ford
• Jaguar Land Rover
• BMW
• Daimler (Owner of Mercedes-Benz)
• Time Warner
• Indian Army
• Hyundai
• Panasonic
• Motorola
• Nissan
• Hitachi
• Whirlpool
• Airports Authority of India
• Unilever
• Comcast (Owner of CNBC and biggest cable TV player in America)
• Canon
In order to de-risk its exposure to the automotive segment, Tata Elxsi is now aligning its focus to the aerospace and urban transportation.



Therefore, new product launches across its diverse client base will continue to offer Tata Elxsi a continuous avenue to improve its topline and profitability.
Company Financials
Tata Elxsi's financials demonstrated an emotional improvement in the previous five years. The organization developed its deals and revenues at an exacerbated pace of 18% and 63% in the course of recent years.
It is a Zero Debt Company. With zero obligation on books and solid return proportions, the organization is very well prepared to hold over time of brief log jam and contribute for future development, similar to it has done previously.
The moderately lower profit payout is likewise not a concern as long as the organization can send the money in the business at a solid pace of return.
Speculation of Strategic Merger with Tata Consultancy Services
Since the Tata bunch has in excess of 100 working organizations, the gathering is gauging an arrangement to smooth out its innovation and framework organizations. The aggregate is thinking about a rebuilding that would see a few of its innovation organizations moved under Tata Consultancy Services. In spite of the fact that the merger of Tata Elxsi with greater kin TCS is still in the domain of theory, the arrangement, assuming any, could be impeding to the enthusiasm of Tata Elxsi's minority investors.
Attrition Risk
For a specific design and innovation organization like Tata Elxsi, whittling down could be a gigantic hazard. Be that as it may, Tata Elxsi has figured out how to keep the annualized attrition down rate topped between 12 to 15%. Further, while the organization has somewhat less than 6,000 representatives with a usage pace of 78-79%, it intends to add more workers one year from now to produce and enhance human resource quality for future ventures.
Customer Concentration Could Hurt Margins
Tata Elxsi infers over 30% of its incomes from the United Kingdom. In this way, the vulnerability over Brexit is a hazard to the business. Essentially, JLR (Tata Elxsi's greatest record), which is situated in the United Kingdom could see a stoppage. This could affect their Research & Development spending which, thus, could affect the organization's income and productivity.
Financial and Currency Risk
Each time unique gear makers abridge their item designs as a result of a downturn, organizations like Tata Elxsi are defenseless. That is the thing that occurred with Tata Elxsi's Japanese customers around the past downturn.



In any case, of course, this is an organization with an astounding talent for endurance and a culture of authenticity formed by misfortune. In case of a financial lull or a noteworthy downturn in any of the sections of the business, Tata Elxsi's expanded business makes it all the more persevering.
Tata Elxsi infers over 85% of its income from universal tasks. Europe and the United States contribute 55% and 30% separately. On the off chance that the rupee appreciates against significant monetary forms like US dollar, Euro and Pound, it would hurt the organization's edges.
How we Value Tata Elxsi?
To esteem an organization for the long stretch, it is important to have a fine equalization of its past and anticipated future money related execution. The measuring sticks that we would utilize are the normal yearly income development and investor's profits over a twelve-year time frame (real history of recent years and unequivocal gauge for the following 4 years). In view of these qualities, the business is agreed a standardized development over the long haul and leave various that encourages us to show up at its drawn-out worth.
For Tata Elxsi, over the 12-year time frame (real history of recent years and express estimate for the following 4 years), the normal yearly income development is about 13%. The normal profit for value over the twelve-year time frame is required to be around 2%.
While essentials of the organization stay solid, the building and structure industry stays powerless against monetary log jam (both local and worldwide). Subsequently, we trust Tata Elxsi is Safe stock and worth it around 25 times our FY29 evaluated income.
We anticipate that the stock should go up at any rate 3x over a time span of 10 years dependent on these appraisals.
Effect of Covid-19 on Tata Elxsi's Earnings
Tata Elxsi expects an impermanent log jam in verticals like vehicles in the close to term. Notwithstanding, the organization's broadened customer base and its emphasis on diminishing the introduction to auto segment are relied upon to keep income moderately steady.



Actually, Tata Elxsi has been concentrating on helping its pharma customers improve to oblige the post-COVID-19 needs in clinical supplies (utilizing the Internet of Things and Artificial Intelligence). This is relied upon to altogether support the commitment of the pharma division to the organization's incomes (as of now somewhat over 10%).
The organization likewise observes worthwhile development from its customers in the 5G space (virtualization, programming characterized systems, and so on) in the coming years.
As far as cost-cutting, the organization explained that it has not conserved any worker due to the Covid-19 emergency. Be that as it may, it has gone delayed on recruiting (with the exception of sidelong employing) and has conceded the compensation climbs this year.
The organization is additionally renegotiating terms with clients to permit nearby representatives (working at customer workplaces) to work seaward (telecommute) to help lessen the customer's costs and simultaneously hold profitability and margins.
The organization had over Rs 6 bn in real money balance toward the finish of March 2020.
The Best Price to Buy the Stock
The load of Tata Elxsi has exchanged at a normal PE multiple of around 28 times and 23 times over a five year and ten-year term individually.



The Maximum Buy Price for Tata Elxsi will be Rs around in the range of 600-700 and should buy in parts or small quantities with a perception of building a long term portfolio.