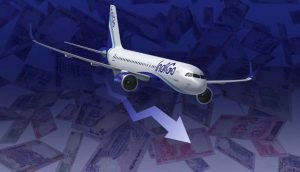 IndiGo Airlines Reports First Quarterly Loss Since Listing on Stock Exchange three years back.



IndiGo Airlines, India's largest aviation company in terms of market share, announced on 24 October, 2018 huge losses for the first time since its Initial Public Offerings in stock Market three years back. IndiGo is only the latest Indian airline to face major headwinds in the industry. And Indian aviation's last man standing has also fallen.
InterGlobe Aviation Ltd. (IndiGo) has reported a net loss of Rs 652.1 crore for the quarter ended September compared to a net profit of Rs 551.6 crore for the same period last year. "Total income for the quarter ended September 2018 was Rs 6,514.2 crore, an increase of 18.3 percent over the same period last year. For the quarter, our passenger ticket revenues were Rs 5,285.2 crore, an increase of 17.2 percent and ancillary revenues were Rs 716.7 crore, an increase of 12.8 percent compared to the same period last year," read a statement from the airline. However, the total expenses for the quarter ended (September 2018) for Indigo were Rs 7,502.3 crore, an increase of 58.2 percent over the same quarter last year. "Aviation in India is facing significant pressures from high fuel costs, rupee depreciation and intense competition, all of which have impacted our profitability this quarter. Despite this difficult environment, IndiGo remains well-positioned thanks to our low-cost structure and strong balance sheet," said company's co-founder and interim CEO, Rahul Bhatia. "Along our journey to build the leading nationwide air transport network, we added 20 aircraft this quarter, entered an additional 5 cities and started 35 new routes. We now fly over 100 daily departures from each of the six metros. I would like to thank all the IndiGo team, who work relentlessly to create a world-class airline for our customers," Bhatia added.
Actually each and every airlines have passed on the rising overheads and costs to its customers by doing aggressive pricing in the fear for losing market share.
According to Market Experts they feel that if realization has to improve if the industry wants to get out from this big mess. If you see as per the data that Indigo passenger loading factor is around 87% which is definitely not bad. So at this point, the loading is pretty decent. The real issue is pricing power has to return which can improve margins and profits because lack of pricing power is leading to huge losses.
In the April-June quarter, both Jet Airways and SpiceJet had posted massive losses owing to rising global crude oil prices and a depreciating rupee. IndiGo's profits had also plunged 97% in the period.
And after that macro situation and other factors are getting worst every day. Actually the rise in international rates for crude oil has forced Indian oil marketing companies to pass the burden and it increased aviation turbine fuel (ATF) prices by 7.25% on Oct. 01. A kilo litre of ATF is now priced at Rs 74,177 in Mumbai. In Delhi, it costs around Rs 74,530. This level was last seen four years ago in March 2014.
As there is upside trend on global crude oil prices, a widening current account deficit, unstable balance of payments and fears of global trade wars have also led to a fall in the Indian rupee's value. With foreign investors withdrawing $9.7 billion from the markets, the rupee has lost further ground and it touched life time of 74 against U.S. Dollar.
Indian airlines are expected to post combined losses of up to $1.9 billion this financial year led by full-service carriers like Air India and Jet Airways driven by rising costs and low air fares, aviation consulting firm CAPA India said.
The loss forecast for the 12 months ending March 31 is up from an estimated $430 million to $460 million sector-wide loss in January largely due to the depreciation of the rupee and a rise in oil prices, CAPA said in a report.
India is the fastest-growing domestic aviation market in the world and carriers have placed orders for hundreds of new Airbus SE and Boeing Co jets.
But airlines have struggled to stay profitable despite filling nearly 90 percent of seats and seeing a more than doubling of domestic passenger numbers over the last four years.
India is one of the cheapest domestic airline markets in the world and discount such as $50 one-way tickets on the two-hour flight from Mumbai to Delhi are easy to find.
IndiGo added 20 planes in the September-ended quarter, taking the total count of aircraft in its fleet to 189. It had a total cash balance of Rs 13,164 crore and total debt of Rs 2,641 crore.