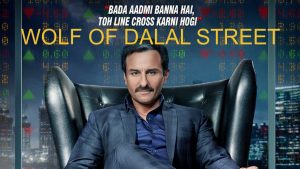 Saif Ali Khan starring as a stock market mogul in his upcoming movie, Bazaar. It also stars Radhika Apte, Chitrangada Singh and newcomer Rohan Mehra.



Saif Ali Khan latest come back on the big screen after the huge success of his recent Netflix series, Sacred Games.
The film, also starring Radhika Apte, Chitrangada Singh and newcomer Rohan Mehra, late actor Vinod Mehra's son, is about the cut-throat world of stock market. Saif ali khan plays Shakun Kothari, a stock market veteran while Rohan plays Rizwan Ahmed, a newbie trying to make a fotune in Share bazaar.
Shakun Kothari takes Rizwan Ahmed under his wing but warns him to never lose his money. Things go well for the two right until they don't.
Radhika plays Rizwan's colleague who welcomes him to Mumbai and into her world of opportunism. Chitrangada plays Shakun's prudent wife, telling him to weigh his steps before he takes big leaps. Neither of the two women get a name title of their own but Radhika does get a bonus glam shot of her behind as she walks out of the pool.
The crime film is directed by Gauravv K. Chawla and written by Nikkhil Advani, Aseem Arora and Parveez Sheikh. It is slated to hit screens on October 26 this year.
Rohan Mehra who plays as Rizwan Ahmed is a young graduate from Allahabad University who wants to be the next Wolf Of Dalal Street a la Shakun Kothari (Saif Ali Khan), who came from nothing and built an empire of Rs 5,000 crore. Rizwan arrives in Mumbai to impress his "khuda" and make it big. But that involves crossing the line…
In the opening sequence, the ambitious young man, hobbled by his self-confessed "small town mentality", is at his tether's end and set to kill himself. In the nick of time, his own voice takes over and begins to throw light on the reasons that have brought him to a ledge overlooking the Mumbai skyline.
Shakun is a ruthless "dhandho nu gando chokro (bad boy of the business world)", who does not think twice about sacrificing relationships at the altar of business. This is an open secret in trade circles and it is quite strange that Rizwan turns a blind eye to it and believes that Shakun will always have his back. For someone who claims that his understanding of emotions is what sets him apart from the other traders, he is a horrible judge of character.
The principal female characters – apart from the conniving Priya, there is Shakun's wife Mandira (Chitrangada Singh) – do not have the kind of roles that could put them at the centre of the plot, but the two actresses do not fail to make their presence felt. The screenplay does them no favours in terms of either length or depth, which only robs the film of the possibility of upping its game.
Baazaar is at best passable. It could have yielded higher dividends had it been less slavishly derivative.