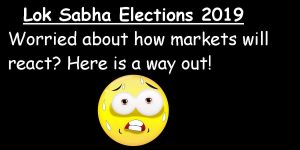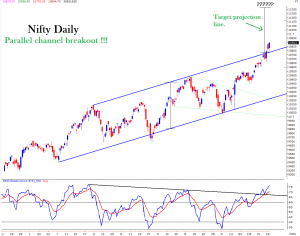 Above is the chart of Nifty Fut (monthly chart)
We can clearly see that on monthly chart our market is in strong up move from the bottom of 2200.
Let us explain some technical formation on chart with the assumption of political conditions in India.
In March 2014 nifty has given "ascending triangle" breakout on chart at 6350 level, which was just before general election of 2014, and after election result Indian market reached to its life time high near 9100 level, but on chart we had got this clear signal of up move, which allow us to believe that in the election Prime Minister Narendra Modi led Bhartiya Janta Party, is going to win this election. (This is just an assumption of upcoming event with the help of technical chart setup, because in India political stability affect the economy and stock market by 80-90% than any other developed countries in the world.)
Then after completing the target of the above mention formation in march 2015, market has given correction till the bottom support line (pink line), when "BREXIT" event happen, but after that market taken support on long term support line, and able to hit the recent high of 9100.
Again at that point it has given "ascending triangle" breakout above 9100 in March 2017 and able to reach till target of 11200.
Now if we come to the point then, please understand why we have given whole explanation above.
As per current chart pattern market has given a good correction from its recent top near 11750 till the level of 10020 almost.
If we clearly observe the formation then we can see that whenever market has broken its recent support line (yellow line) that time it able to give correction till monthly major support line (pink line)
But in current case if we consider its recent bottom of 9960, so it has to break this bottom then only we can see further correction till 9000 level (pink support line).
Now how we can relate above technical formation with upcoming political event.
Let's assume some points, if market giving correction now or in coming 2-3 months then it will correct till 9000-8800 zone, but further if it is not able to take support there and falls more, then in coming time we see strong political instability in India(if we assume Bhartiya Janta Party and NDA Alliance might lose the election also).
But if market take support near 9000 or 8800 and reverse from there on monthly chart(which is long term support of market), then near about February or march 2019 it should able to cross its recent high of 11750-800, this can itself suggest that we can see political stability in coming time in general elections.(BJP might win again if such formation happens on chart) which can give further up move in market with the formation of some technical patterns, which can lead for a move till 14300-14500 zone.
So what we want to conclude is, that upcoming political event can affect Indian stock market strongly, if BJP is going to be the strong party again, then market will try to correct max till 8800-9000 level and will give pull back till recent top of 11800 in march 2019, but if this condition fails if we see further correction in market below 8800 levels, then we can surly experience political instability in coming election.
So one should study market move wisely and investor should take a proper investing decision on right time on right level with the above mention study. Wait for proper level and proper time for a great opportunity in Indian stock market. Because short term correction are needed and always helpful for long term investment plans. The only mistake one can do is wrong entry at wrong point.
So as per technical chart of nifty, I am probably trying to explain you the expected move of our market, it might not happen like I mention, but still I can suggest one should wait for a proper time or a proper reversal as per long term chart mention.
Real Growth of India is not good factor for BJP.  : While India's economic growth recovered to 7.2 percent in the last three months of 2017 after falling as low as 5.7 percent after demonetisation, it is "not strong enough for this position [BJP's majority] to be totally secure".



Youth and Aspiring Voters: India's new generation is likely to decide the outcome of the elections with 250 million voters between the age of 18 and 28. BJP won the previous election with 172 million votes. "This sets the stage for a technology-intensive election campaign."
Stronger Alliances is key for winning In Uttar Pradesh And Maharashtra: The two states account for 128 seats out of a total 543 in the Lok Sabha.
A weak majority means weak coalition with the lead party winning 180 seats. India has seen such unstable governments in 1998 and 1999 with Atal Bihari Vajpayee as the prime minister both times. "Coalition governments do not necessarily lead to poor growth – but they can adversely affect sentiment in the short run,"
A weak coalition with a lead party only participating in a supportive capacity. "Such support is from the outside leaving the government vulnerable,"
An interesting takeaway to focus is the market had been rising during the general elections in past in hope that a stable government will be formed in the era of coalition governments. Now, considering the current political situation, there are high chances that a coalition government will come into power in May 2019. This would have a significant tangible impact on the movement of markets an year preceding the election date.
The Indian market seems very concerned and nervous nearly an year ahead of going into General Election 2019 on the verge lots of serious macro problems and absence of positive developments at home and negative global cues.
Stock market normally takes a bullish or a bearish trend depending upon the policy changes, developments and announcement which is mostly done by the elected candidate based on infrastructure, privatization, levying of tariffs, creation of jobs, Foreign Direct Investment etc. The pre- election rally trend can be seen with projects being stalled due to paucity of funds. The reason is that the capital is diverted for election so that there will be amiable reforms by political party and that would bolster the stock market as the investors will buy colossal stocks and there will be no dearth of shares for a given company.
Even as you see couple of industry experts and market veterans trying to decode the impact of assembly elections 2019 on the Sensex and Nifty, with just nine months to go for the all important general elections, my analysis and advise concludes that investing in Nifty large cap stocks may be the best strategy.