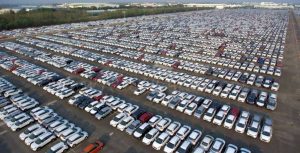 In a recent development after ex CEA Arvind Subramanian criticized the BJP led Narendra Modi government saying forged and incorrect data was reported and released about the annual growth rate of India. A research and study reveals that in Modi 2.0 era, automobile sector is facing worst crisis.
In what is now looking as a sign of a sinking economy, India Auto Giants of two and four-wheeler such as Maruti, Tata Motors, Honda, Mahindra and Mahindra in India have shut down their production due to unsold stock.
As per the latest data, at the start of June 2019, there was around Five Lakh passenger vehicles worth $5 billion (₹35,000 crores) lying unsold in company dealerships.
However on other hand, in the two-wheeler segment, the unsold inventory stands at 3 million units valued at $2.5 billion (₹17,000 crores).
So if add both the auto segments, as per an estimate, passenger vehicles worth ₹52 thousand crore are lying about unsold, signaling Biggest Automobile Crisis for the Indian economy.
Market Experts and Economists believes that lack of liquidity, slow job growth and weak buyer sentiment have led to the crisis.
The demand for passenger vehicles over the past seven months has gone down drastically and at record low levels.
Also, due to problems like traffic congestion, rising commute times and hassle in parking, more and more people have started turning towards public transport and app-based cab services like Ola and Uber.



"In the last ten years, we have not seen anything like this when all the segments are down. The start of the new financial year has not turned out to be very good for the industry," Indian Automobile Manufacturers (SIAM) Deputy Director General Sugato Sen was quoted as saying by the media.
According to media reports, Maruti Suzuki already made strong decision to second round of shutdown from June 23-30 while Mahindra stated that its manufacturing unit, Mahindra Vehicle Manufacturers will have no production days for 5-13 days in the first quarter of 2019-20.
Tata Motors' Sanand plant which is located in PM Modi's home state Gujarat, was shut from May 27 to June 3 while the production unit of Honda Cars India was shut down from June 5-8.
Renault Nissan and Skoda Auto also plan another round of long shutdown for 4-10 days in the month of June 2019 for "scheduled maintenance" claimed some reports.
However, the real cause for the shutting down is the piling up of unsold vehicles at company warehouses and dealerships.
"Maruti Suzuki, the country's largest automaker has the record capacity to manufacture 1.5 Million units at its two facilities in Gurgaon and Manesar. The company is dealing with inventory of around 50,000 vehicles as compared to an average of 25,000-30,000 cars," claimed as per the media reports.
The Congress leader Randeep Surjewala raised this question and called it 'a pang of plunging economy' in his latest tweet.
Former Chief Economic Adviser to Narendra Modi government, Arvind Subramanian recently gave a statement in public that the Modi government has painted a far rosier picture of economic growth than the more modest reality.
As per Subramanian, the Modi government has claimed that Indian economy rose to around 7% between 2011-2017, however the real growth rate was about 4.5%.