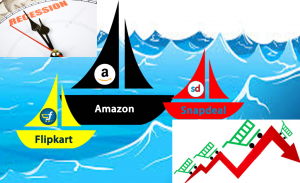 Consumer spending on e-commerce sites has fallen by a fifth in the first half of 2019, Economic Times reports, citing a Kantar report. Average spending is down 21% while average ticket size has dropped 27% over the previous year. The key categories of mobiles and fashion saw a 16-17% decline in buyer numbers. Companies are now forecasting 25-27% growth in the second half, lower than previous estimates and below last year's 35% increase in sales. What's behind the slowdown? A general decline in sentiment and the absence of deep discounts.
Consumers are cautious, so do the retailers! A negative consumer sentiment, resultant from a slowdown of economic growth in India, is weighing on inventories of retailers! Retailers have stocked up less in last couple of months – but to my estimation, inventory lying with them as on date must be very close to that of last year! Serious problems will surface if the consumers spending does not resume at normal level till Diwali in end October – about which no one can be sure of, in this phase of slowdown!! In case Consumers spending does not come back, FMCG will be badly hurt and bruised – And, will pave way for vicious cycle of economic slowdown and recession in India!!



Late Diwali this year hits Amazon global sales in Q3. International sales slowed in the September quarter on account of Diwali falling later in the year in India than in 2017, underscoring the growing importance of the country for the eCommerce giant. The company's September quarter international net sales grew 13% to $15.5 billion compared with 29.2% in the year-earlier period. Amazon's international sales rose 34% in the March quarter and 27% in the subsequent three-month period.
Retailers have less in stock for festivals amid poor sentiment.
"When you can't prevent something resist it". Excellent marketing strategy would be required to resist this prediction.
Amazon, Flipkart Offer more Rewards, Cashbacks and deep discounts for Sellers To Boost Sales, Amid Economic Slowdown And Upcoming Festive Season.
India's Leading E-commerce Players like Amazon and Flipkart are planning to cut down their commissions from Indian sellers as to boost their margins and sentiments. The sellers said that overall sales were really disappointing in first half of this years. During festive seasons, marketplaces as well as sellers offer heavy discounts.