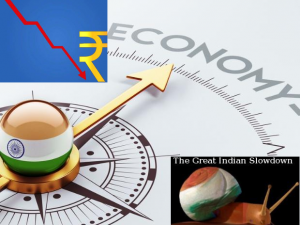 Companies and consumers in India are a worried lot, two RBI surveys reveal. A poll of 1,231 firms found manufacturing businesses to be pessimistic about the coming quarter, with the expectations index falling to 112.8 for July-September from 113.5 in April-June. Producers are worried they won't be able to sell their goods nor borrow funds, mainly due to the ongoing liquidity crisis among NBFCs. The despondency seems justified. The central bank's consumer confidence survey, which polled 5,351 respondents in 13 cities, found people are turning conservative on spending money: consumers are postponing big-ticket purchases and bargain-hunting instead.
Indian economy is showing no signs of revival, the only light at the end of the tunnel is Brent price hovering around the US$ 58 mainly due to inventory pileup and global growth concerns. If this trend continues for another quarter before the winter sets in, we will see India's import bill under control. Again on the stimulus to the Auto industry, there is no indication from the north block. A lower interest rate would not lead to consumption spend unless and until the consumer gets enough confidence on his earning capacity and sustainability. A stimulus package to India Inc would lead to investment cycle revival in the country thus leading to job creation. US is exactly doing the same thing. The think tank in the NDA with clear majority needs to go back to drawing board and lay down a road map for economy to revive.
The Great Auto Slowdown in India: as per data provided by the Federation of Automobile Dealers Association (FADA), some 286 dealerships have shut down in the last 18 months across India as rising costs for inventory management have made businesses not feasible.
The car dealerships are generally carrying inventory of about 60 days of sales and for 2 wheelers it is even higher at between 80 to 90 days.
My take: there are a multitude of reasons for the slowdown including a slowing economy, weaker consumer confidence, tighter NBFC financing. The situation is likely to be tough for the rest of the year as the supply chain will have to offer massive discounting to move the stuck inventory. It will be a buyers market. But the automotive workshops and the spare parts aftermarket will have good business as people invest more in maintenance rather than upgrades.



India inc clearly goes through a rough patch.
Earlier this year, India lost the fastest growing economy tag, falling behind China. The country grew at its slowest pace in five years at 5.8% during January-March quarter in financial year 2018-19. Growth during 2018-19 declined to 6.8% from 7.2% a year ago.
Except for Tata Consultancy and Hindustan Unilever limited saw gains in Market Cap, However companies like HDFC Bank, Reliance Industries, Kotak Mahindra Bank ended the week with losses.
Automobile industry sees the worst of its phases, forced to do production cut.
Amid explicit economic slowdown, GST collection touches 1.02 lakh crore in July 2019 as compared to last fiscal year..
Government has to chalk out a clear agenda to retain the growth and subside the issues across where it's grappling with.
According to my view, If we talk about the ground level, I think we are already in a slowdown for almost 2 years. Numbers are starting to show it now. In fact it started surfacing with real estate and infrastructure from 2014 on wards, and now crippled into automobile, and finance(banks and Non Banking Finance Corporations). Even consumption stories are fading since the last quarter.
Big names are willfully defaulting on loans, and we are now in an intermediate phase of spiral effect from one sector to the other. Finance being the center of all. Fiscal deficit is high, cost of living is high(not reflected fully in inflation), GDP going down. To summarize it's not such a positive picture right now.
Finance Minister, if you can't do anything good, please don't do anything bad for the economy. Please listen to the concerns of what India Inc. facing today.
In budget, you announced tax deduction for the customers who buy electric vehicles and in recent meeting of GST council GST rate on electric vehicles slashed to 5%. Great initiative but nothing is worthy until you have the ready infrastructure and not when the auto, nbfc and auto-ancillary sectors are suffering.
In the recent auto sales numbers of July, the sector witness the worst July sales in two decades. Inventory continue to pile up and industry worries about the adoption of BS-VI norms. Things that need to addressed as soon as possible.
1- Concerns of FII & FPI
2- Concerns of Auto and nbfc sector
3- Rethink on buyback tax on corporates
4- Slowdown of economy
5- How we can gain advantage of US-China trade war.
Do you see a near-term revival in consumer confidence? See more posts below and like or comment to express your views.