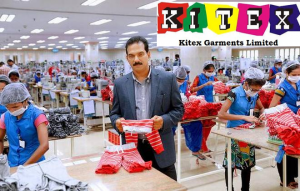 Kitex Garments Ltd is Established in the year 1992, is involved in 100 per cent export of cotton and organic cotton garments, majorly infant wear. The company has been exporting its products to the United States and European markets and is one of the giant suppliers to brands to Global apparel majors like Mothercare, Jockey, J C Penney, Wal-mart, Sarah Lee, Gerber and others.
Kitex Garments Ltd is in the business of manufacturing and exporting infant garments. Company currently generates 80% of its revenue from the sale of infant garments and the balance 20% from the sale of fabric to Kitex Children wear segment. Kitex has presence in the highly niche 20 Billion U.S. Dollar global infant-wear clothing market and is the 3rd largest vendor globally. With India's market share being low single-digit, and with India's growing competitiveness against erstwhile low-cost countries like China (~52% market share), we believe the long term opportunity for Kitex Garments is Huge.
We expect Kitex Garments to capture a larger pie of the infant-wear value chain through its forward integration with its launch of own brand in the US market (Little Stars) as well as licensing of private labels (Lamaze) in the US market. Forward integration holds high significance for the company as margins in its own brand will be double of the current business (~60% versus current margins of ~30%), along with higher realizations.
The company plans to be debt free on gross basis by the end of FY17, though it has cash surplus on net basis. KTG commands strong, industry leading return ratios, with its business model generating robust free cash generation. We believe KTG stands out amongst listed textile exporters (with most of them present in capital intensive, low RoCE businesses of yarn and fabric manufacturing (averaging ~10% RoCE).



Kitex Garments achieves Milestone crosses 1000 crore revenue
For the year ended March 31, 2019:
– Total Revenue stood at Rs. 629.26 crore, y-o-y growth of 12.38%
– EBITDA of Rs.161.33 crore; y-o-y growth of 17%
– PAT stood at Rs.81.45 crore; y-o-y growth of 16.32%
– Basic EPS for FY19 stood at Rs. 12.22, as compared to Rs. 10.64 for FY18
For the Quarter ended March 31, 2019: (Q4 FY19):
– Total Revenue stood at Rs. 181.62 crore, growth of 37%
– PAT stood at Rs. 24.37 crore as compared to Rs. 10.32 crore in the previous quarter
To achieve this dream milestone, the company plans to invest around Rs 900 crore and venture into the manufacturing and sale of new products in the infant apparel category, which includes products like socks for children, baby diapers and baby wet wipes.
Kitex Garments has laid out concrete plans to boost the vertical integration of its manufacturing value chain with the setting up of a cotton spinning mill for yarn production with a capacity of 100 tonnes per day for extra added advantage against its local and global competitors.



Future plans are also been prepared to set up a manufacturing facility for ancillary materials such as trims & packages, which include cartons, tapes, paper tags, labels, hangers, and woven tags, etc.
The vertically integrated manufacturing plant in Kerala at present manufactures infant wear as well as fabrics simultaneously. Additionally the company can produce 432,000 infant wear articles per day and its total textile capacity is around 50 tonnes.
Kerala-based Kitex Garments, currently is the third largest infant garment brand across the globe, is making huge plans and expansion strategies to become the top spot by 2025, so if you make a rough estimation in turnover terms it would be around Rs 2,000 crore, as against Rs 650 crore at present. At present, the number one and two global brands which are leading are from China and Singapore.
In the last six months the stock price of this company is trading in the range of Rs 70 to Rs 100. So if we think about adding Kitex Garments to our portfolio so one should start accumulating this stock around Rs 70 in parts and can look for Price Target of Rs 700 in next 5-7 years.