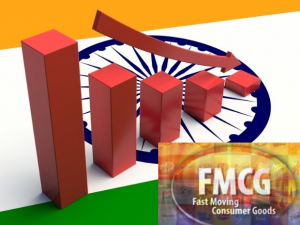 India's FMCG industry could witness its slowest growth in a decade and a half this financial year, Credit Suisse warns, citing liquidity constraints and weak farm incomes. The I-bank estimates revenue at consumer goods companies to grow by about 5% in the second and third quarters of FY20, akin to rates last seen during 2000-03.
FMCG firms benefited from lower taxes and cheaper fuels following the GST rollout, but they've become increasingly dependent on rural consumption. Investors have taken note: the traditionally defensive BSE FMCG Index is down 7.4% year to date while the Sensex has been flat.
Many studies are pointing to a slowing down in growth for the FMCG industry in India. Even rural markets which were hailed as the next growth accelerators are slowing down. The only way forward is to segment and segment markets and customise offerings. Only actionable data insights can do that for the consumer goods brands.
Most of the drivers of the current slowdown appear to be transient and related to channel financing/GST credit issues. Understanding why the economy has slowed down at various levels (i.e. consumer, dealer, distributor, manufacturer) is central to investing sensibly in this time of flux. Whilst heavy repo rate cuts are needed, the notion that structural reform is needed to resuscitate the economy is damagingly misguided.



FMCG Companies, through their Salesmen, are trying to push more and more inventories with the retailers to achieve their target at the same level of last year in this festive season! In opposite, due to ongoing economic slowdown and subdued consumer sentiment, Offtake from retailers have been reduced by 20% to 30% from that of last year except for the essential ones!
I am pretty sure that the position will be cleared by end September itself as these retailers will fail to pay up in the permitted credit period! If they are pressured, they will simply ask those salesmen to take back the inventories and issue credit note – The whole cash flow for FMCG Companies will become vulnerable!
A farmer thinks poha and soaps are luxury items. Another argues Kali mitti is better than shampoo for a hair wash. Bare kitchens show how families have cut down on basic staples like pulses and greens.
The impact of failure of Monsoon is already in place. Businesses have to look at this as major Raw material and utilities challenge.
Cotton growers in Vidarbha have already shifted to planting short span crops like Soyabean. This will not only impact the ginning mills but also impact rural FMCG consumption in big way. If government and businesses do not take steps to protect soil moisture and water retention- there won't be any business left.
India Inc will have to understand that NO Sustainability means NO economic development.
FMCG industry is sinking, worst phase ever after 2000-2003 slowdown, Cluttered GST high rates are catalyst to industry slump.The economy is facing arguably the biggest recession in history. Lakhs of jobs in the Auto, FMCG, Real Estate & Corporate sector have been lost. India is seeing the worst financial sector crisis in 70 years.