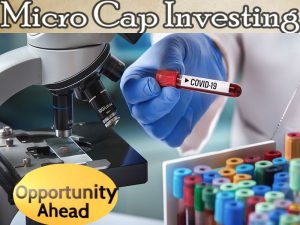 As you experience the ongoing turbulent times of coronavirus outbreak, there is one hidden micro-cap stock that has suddenly evolved to invest in the war against the COVID-19 Pandemic. This organization has been advancing expansion and growth with its new entry into the medical equipment industry.
3B Blackbio Biotech, a wholly-owned subsidiary of Kilpest India (KILP), has obtained a special approval by the ICMR (Indian Council for Medical Research) for the manufacturing of real-time PCR (polymer chain reaction) detection kits to avoid Coronavirus infection. It is one of the challenging times when the entire Indian economy has come to a standstill because of the COVID-19 Outbreak, this positive announcement comes as a strong advantage. Its main growth driver has been motivated by the entry into medical equipment manufacturing and the current approval gives it a new booster to grab a stronghold into the market. The company shares are going through a severe correction in the last two months and now requires more attention from the investors.
The TRUPCR SARS COV-2 (COVID-19) test is a confirmatory molecular detection test which helps to find out the COVID-19 genes from the patient sample. As per the company, the test works on any of the available PCR instruments within a lab and thus does not require any extra expenditure.
Kilpest India (KILP) Company Profile
Kilpest (CMP: Rs 70, Market Cap: Rs 54 crore) is currently involved in two major businesses of Agrochemicals and Health care. The agriculture division primarily concentrates on crop-protection products, both chemical-based and biological (chemical-free). The healthcare division's main core area to focus on molecular diagnostics, nutrigenomics, and personalized medicine research.
Kilpest India (KILP) Strengths & Advantages 
ICMR Approval 
The latest approval by ICMR for allowing the production of the COVID-19 test kits is a big advantage for the organization. Keeping in consideration of Global Pandemic outbreak, the requirement for the testing kits on a pan India level is forecasted to increase significantly, which will offset the organization to cover up the losses for the slowdown in generic tests at present. It will also help in building a strong company's position as a reliable test kit manufacturer in India which will be a very beneficial factor for uplifting growth and rapid expansion in the longer-term horizon.



Big Opportunity in Medical Equipments Industry – The molecular medical devices segment has seen great development in universal markets over the previous long periods of around 20 percent. In India, this portion is generally new and has a colossal extent of development. Organizations like Thyrocare and Dr. Lal Path have directed their concentration toward Molecular Diagnostic Based tests and have as of late put resources into equipment. Foundation for MBD tech is on the advancement mode, which is likewise a gigantic supporter for the organization and its products. This means a solid development viewpoint for the organization in the coming years.
Good Financial Performance
The organization's operating performance has improved in the previous hardly any years. Its operating margins have ascended to a solid level and are over 30 percent while net margins are around 22 percent. With quickly developing clinical gadgets fragment, margins are forecasted to stay on the higher band. Diminishing of de-development in the agri-products division would likewise be a positive for its margin and will improve companies' profit, as productivity parameters of diagnostics are way prevalent.
While the agri-products division has stagnated (income of Rs 12.9 crore in Financial Year 2019 from Rs 14.5 crore in Financial Year 2017), the clinical diagnostics business has expanded fundamentally from Rs 3.3 crore in Financial Year 2017 to Rs 11.2 crore in Financial Year 2019. The portion of this profoundly beneficial fragment is relied upon to improve, going ahead.
Reduction in Debt Levels
The organization has been consistently taking care of reducing the larger amount of debt over the most recent two years and has negligible debt on its books of account as on 30th September 2020. Its current debt-equity proportion is 0.04x. A solid balance sheet is a big advantage in the midst of the present market instability. It likewise leaves scope for extension later on.
Promoters Increasing Stake Holding
Promoter bunch has been expanding, an indication of their certainty. At present, the promoter gathering's holding remains at around 38 percent with the no pledged shares at this moment.



Kilpest India (KILP) Key Issues and Threats 
Huge Slowdown in Generic Testing Segment 
With the Whole India is under strict lockdown, significant clinical test organizations like Dr. Lal Pathlabs and Metropolis Healthcare have shown that they have seen a log jam in the general tests' fragment. Given this, there ought to be a huge fall in demand and tepid sales in the normal test pack requirement for Kilpest India in Q4FY20.
Agri-Products Division Negative Growth
The Agri-Products Fragment is under constant pressure and is pulling the company overall profitability. While the organization is seeing high development in the clinical gadgets industry, the agri-products business has seen a gradual negative growth in the past few quarters. Expensive raw material price and reliance on Chinese imports have put a huge dent on the overall profitability and profit margins of this segment. We don't perceive any triggers for development in this business division right now with a short term view.
Core Unavoidable Threat
There is constantly a danger of government topping the cost of diagnostic test packs and tests. Being a small scale player, the stock is dependent upon the higher instability in that space and has low liquidity. Long term Investors and Market Traders must keep all the aspects in mind before investing in this potential company with a long term horizon.
Threats from Bigger Competitors
The organization's raid into clinical gadgets stays powerless to risk from new and greater players entering the market, who with their more profound pockets could quickly catch a piece of the overall industry.
Kilpest India (KILP) Reasonable Valuations and Future Growth Outlook 
We are extremely positive and bullish about the long term business goals and growth of Kilpest India given its solid development and developing business sector viewpoint. We consider being a growing one building a solid return.



Regardless of whether we consider only the clinical diagnostics business, the valuation of Kilpest is no place near huge symptomatic organizations.
The stock has plunged already by 35 percent from its 52 weeks High levels. After the huge correction, the stock is presently exchanging at a Financial Year 2020 estimated cost to-profit of 7.5 times. With its developing clinical gadgets business expected to keep progressing admirably, we stay positive on the organization's development potential.
3B BlackBio Biotech India Limited, is a Research & Development based Biotechnology Organisation, is purely concentrating on the PCR based Molecular Diagnostic products. It is currently having state-of-the-art facility; 3B BlackBio is a professionally managed globally authorized supplier of PCR based Molecular Diagnostic products, PCR enzymes & Molecular Biology reagents & it also caters services in Molecular Diagnostics Segment.
The existing portfolio of products involves Molecular diagnostic kits for Mycobcterium Tuberculosis and differentiation with non- tuberculus Mycobacteria, Hepatitis- B, Hepatitis-C, HIV, Herpes Simplex Virus (HSV-1/ HSV-2), Human Papilloma virus, Dengue, Malaria, Bacterial & Viral meningitis etc. and also for Oncology parameters like- HLA B27 & BCR ABL.
Currently, Kilpest India Share Price is trading around Rs. 100 and had touched 52 week low of Rs. 54 and 52 week high of 123.