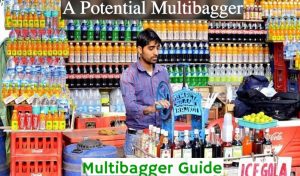 Our today Multibagger stock pick is Varun Beverages (VBL), a Rs 13,000 crore market cap company that bottles Pepsi products. Varun Beverages is the second largest franchisee in the world (outside the US) of carbonated soft drinks and non-carbonated beverages sold under trademarks owned by PepsiCo.
Varun Beverages was founded by Ravi Kant Jaipuria as a wholly-owned subsidiary of RJ Group. Varun Beverages has been related with PepsiCo since 1990. It at first began as a business partner of PepsiCo in select domains and has gradually extended itself. Varun Beverages purchases the franchisee rights from Pepsi for a domain and afterward sells the items in Pepsi Co name, adequately a Bottling packaging plant and Reseller.
Varun Beverages has been expanding the number of authorized regions and sub-regions either by straightforwardly securing it from Pepsi or getting the firm that has the rights.
VBL is one of the largest franchisees in the world (outside the USA) of carbonated soft drinks (CSDs) and non-carbonated beverages (NCBs) sold under the PepsiCo trademarks. The company is also involved in the production and distribution of CSDs, NCBs, and packaged drinking water. VBL is also amongst the first to receive PepsiCo's license for manufacturing and selling multiple beverage products in India. We believe Street is skeptical about VBL's relationship with PepsiCo, which makes it imperative to delve deeper and know more about this almost 25 years of association which commenced in the 1990s.
We believe VBL's vast operational experience, widespread integrated distribution network, and in-depth market knowledge lends significant value to the distribution and sale of PepsiCo products in India. PepsiCo transferring even its own bottling plants to VBL bears testimony to the latter's varied and rich track record. Over the years, VBL has gradually also expanded operations in high-growth potential international geographies of Morocco, Nepal, Sri Lanka, Zambia and now proposes to enter into Zimbabwe.
Varun being a pure bottler company. First, a bottler merely manufactures the product and supplies it back to the brand owner for a small conversion fee. VBL is much more than a pure bottler – in fact, the company is present almost across the entire value chain.



VBL straddles across the entire value chain. VBL's presence across the entire value chain more than signifies that it is not just a bottler, but makes significant contribution across the value chain. As per its agreement with PepsiCo, the responsibilities of both players are clearly spelled out. For seamless execution of their respective responsibilities, VBL has all the building blocks in place – possesses strong infrastructure, supply chain, margin improvement, etc.
VBL has also made significant investments towards establishing a robust back-end infrastructure be it manufacturing of preforms, crowns, caps, shrink-wrap films, corrugated boxes, and plastic crates. This ensures that VBL's reliance on third-party vendors is limited. It also helps the company in harnessing operating leverage benefits, thereby lending fillip to margins.
With inorganic acquisitions and incrementally bagging licenses for new international geographies, the proportion of revenue coming from those geographies also increased. Having said this, management believes India sub-continent revenue (including Nepal & Sri Lanka) will sustain at >90% of overall revenues over 3-5 years.
For the health-conscious consumers who avoid such drinks and prefer healthier options, such as non-carbonated drinks and juices, VBL has also been getting its act together to cater to this growing segment. VBL is working on a new product with low sugar content (>30% lower sugar) with research in progress in Gujarat.
VBL, through its long-standing (>25 years) relationship with PepsiCo, consolidated its position in North and East India by integrating various erstwhile PepsiCo/other bottlers' plants into its operations. VBL's strategy has been to identify territories that offer humungous growth opportunities for PepsiCo's products and are located contiguous/in close proximity to its existing licensed territories and sub-territories so that they avail freight, transportation, and distribution cost efficiencies and operating leverage. VBL continues to work closely with PepsiCo to identify such strategic consolidation
opportunities.



At the current crossroads, PepsiCo is spread more than 21 states in India separated from nations like Nepal, Sri Lanka, Zimbabwe, Zambia, and Morocco. A large portion of the development has come as far as an inorganic extension by procuring new regions and growing the logistics and supply chain network. Varun beverages have in excess of 51 percent piece of the pie in Pepsi drinks in India. The India portfolio contributes almost 75 percent of the income.
VBL couldn't get a dependable balance in South Indian Market for quite a while. It has as of late gained franchisee rights from SMV Group to produce PepsiCo beverages in 13 areas of Karnataka, 14 regions of Maharashtra, and three local districts of Madhya Pradesh.
Varun Beverages right now has 20 assembling plants on a pan India level and five assembling facilities in worldwide geologies. The greater part of the assembling plants has been spotted to expand the reachability over their region. Varun Beverages is as of now serving 1/eighth of the total populace and is the second greatest global establishment of PepsiCo.
VBL has 75 terminals across India with 2,100 possessed vehicles and about 1,000 essential merchants. To boost the retail outlets VBL has given the visi-coolers. By end of September VBL has dispersed almost 4,74,500 coolers.
Product Portfolio
FMCG Products of Varun Beverages can be characterized into two divisions viz. Carbonated soft drinks (CSDs) and non-carbonated beverages (NCBs).
Carbonated beverages
Carbonated beverages incorporate Pepsi, Pepsi Black, Diet Pepsi, Mountain Dew, Mirinda, 7Up, 7Up Nimbooz Soda, Slice Fizzy Drinks, and Everest. VBL has assembling and appropriation rights for all carbonated beverages. (The items are Pepsi claimed, however, Varun Beverages is an agreement producer and merchant).
Non-carbonated drinks
Non-carbonated drinks incorporate Slice, 7Up Nimbooz, Tropicana, Sting, Gatorade, Aquafina, and so forth. VBL has just conveyance rights for the Tropicana section (they don't make Tropicana, just disseminate it), and for the rest it has assembling and appropriation rights. VBL is setting up a plant for assembling of Tropicana, which will be fully operational soon.
Financials
The business is occasional in nature and the pinnacle is generally summer and base is winter, when deals evaporate. The beneath graph mirrors the equivalent. What's more, on the off chance that we take a gander at YoY, the volume has been developing.



To make any geology gainful, VBL needs to sell at least 10 million cases.
The greater part of the income development accomplished is in by methods for inorganic extension. VBL has persistently included new domains (household and global) and at the same time assembled limit around it, as opposed to simply looking at dissemination.
The equivalent has been reflecting in its income. Income has generally developed at 16 percent CAGR and benefit by surprising 48 percent CAGR in the course of the most recent six years.
What's more, even now, a large portion of the regions under which VBL is operational has not been totally soaked (as far as infiltration). Likewise, still it has South India to cover, where it doesn't have any hardcore existence.
EBITDA Margins
Assembling and distribution of drinks have been a high margins business for VBL. We began the new financial year on a solid note with sound interest and strong volume development over our residential and global markets. This empowered us to convey a topline development of 23.3 percent, EBITDA (Earnings before interest, taxes, depreciation, and amortization ) development of 24.2 percent, and PAT (Profit After Tax) development of 50 percent during the quarter," Varun Beverages Chairman Ravi Jaipuria said.
He anyway noticed that over the most recent 10 days of March, a nationwide lockdown and comparative limitations in numerous different nations "moderated" the organization's exhibition for the period which would have in any case been surprisingly better.
On the off chance that we can see the margins in 2013, it was at 13.70 percent. Post that VBL has gained new regions and included new assembling plants. The retrogressive incorporation has purchased more margins in distribution and assembling.



Tropicana for which VBL has not yet begun fabricating and just has appropriation arrange has lower edges contrasted with peers. The edges are as low as 10-12 percent. This is a noteworthy low contrasted with peers.
Varun Beverages Ltd, PepsiCo's biggest establishment bottler, on Tuesday detailed 50 percent bounce in combined net profit at Rs 60.06 crore for the March quarter 2020, helped by volume development over its local and global markets.
The organization, which follows schedule year as its money related year, posted a net benefit of Rs 40.04 crore in January-March 2019.
Inorganic development includes some major disadvantages
All the acquisitions of domains and plants VBL has done are through huge debt raising. This has shot up the debt of the company at the extreme levels of VBL. VBL began with an obligation of Rs 1,940 crore and at its pinnacle of extension, it had an obligation of Rs 2,654 crore.
In spite of this, their incomes appear to be sufficiently able to have the option to reimburse this quick.
From being one of the top master blaster performers in the fast-moving consumer goods (FMCG) bushel conveying 36 percent returns in 2019, Varun Beverages — the India establishment of PepsiCo — is seeing its fortunes invert in 2020.
A year ago's profits were helped by the procurement of south and west regions of PepsiCo in May, which improved the development possibilities of Varun Beverages. Speculators presently may need to altogether restrain their desires for 2020 as the coronavirus sickness (Covid-19) pandemic is affecting the organization's pinnacle season deals. The organization follows a January-December bookkeeping period.
Gaining new Business Territories
VBL has as of late gained assembling and exclusive distribution rights in Karnataka and Maharashtra. Both are nearly enormous states, which till now were too far out for VBL. This will add a noteworthy development to its top line. What's more, still it has a few states like Tamil Nadu, Kerala, Andhra Pradesh, Telangana, and Gujarat to cover. These are areas that see higher temperatures in summer and have more popularity during the period.



Aside from Indian sub-landmass, VBL has a dependable balance in Africa. a high development advertise. Zambia has seen a development of 35 percent in the most recent one year. Any new regions included over there will be an additional preferred position.
Improving the income and margins in existing regions
VBL has gone into a securing binge. All the new acquisitions have lower infiltration with only 20 percent. In correlation, the more established domains have an entry-level to 30-35 percent. This gives bunches of headroom for more current regions like Jharkhand for future development.
Likewise with in house assembling of Tropicana, the margins will improve fundamentally. Till now Tropicana has been hauling the overall margins. (Tropicana hauls down margins by 3 percent since they don't make the item)
New Innovative Products with changing consumer taste and demand
PepsiCo has developed with time. As the age changes so are their drinking propensities. Buyers are going towards lower-calorie drinks. In accordance with that Pepsi has propelled diet Pepsi, Pepsi Black, and Sting. The as of late propelled items contribute about 2-3 percent of VBLs income. All the more new items contributions are required to drive future development.
Concerning Risk
Sugar and rough raw materials key to margins. Sugar and crude has been the significant cost figure included assembling. The vast majority of the drinks have sugar content in it (aside from diet Pepsi). Any expansion in sugar costs straightforwardly hits production margins. Crude costs are significant as the greater part of the bundling materials are subsidiaries of unrefined. Ascend in unrefined costs will unfavorable impacts on VBL. As indicated by the executives, any expansion in input cost up to 5 percent is borne by the firm. Anything over that is legitimately given to clients.
Prevailing fashion of carbonated beverages is melting away
All around, the greater part of the developed nations is evading drinks with high calories. Furthermore, buyers are moving towards more solid beverages instead of carbonated beverages. This pattern has left drink monsters like Pepsi and Coca Cola looking for more current developing markets like Africa, South Asia, and so forth. India also has set higher charges on sugared beverages. Littler nations like Sri Lanka have disregarded high sugar drinks
VBL is confronting negative trends in growth by very nearly 20 percent this year, in Sri Lanka.



A similar pattern has been getting up to speed the upper urban buyers in India. This may at some stage arrive at a tipping point and begin spiraling down. New items with changing occasions will prop the food and beverage business up forward.
FUTURE GROWTH OUTLOOK
On the viewpoint, the organization said however the interest in local and global markets is reduced, it is relied upon to get typical in the close to term.
While we are right now seeing diminished interest both in India and in our universal geologies because of the progressing full-scale circumstance, we accept, in the close term there ought to be a slow ricochet back in volumes. This will be empowered by facilitating of lockdown limitations and reclamation of purchaser estimation as they will by and by have ordinary access to beverage purchases.
Given the expanding request that we saw for every one of our items preceding the lockdown, we are sure that once things balance out, we will by and by observing empowering development and we will additionally fortify our situation as the main player in the beverages industry.
Varun Beverages is the second-biggest franchise on the planet (outside the US) of carbonated sodas and non-carbonated refreshments sold under trademarks possessed by PepsiCo. The greater part of them falls under optional items.
A feasible cut in optional item portfolio, postponement or abrogations of social and open occasions are relied upon to stay with request repressed for the. Our research team has pointedly cut their 2020 deals development gauges for Varun Beverages to sub-4 percent, from 22 percent prior, basically because of interest vulnerability for optional and out-of-home utilization items.
Since an enormous piece of Varun Beverages' business is occasional in nature, recuperation of lost business is probably going to be troublesome.



As per industry sources, the interest in the organization's items is beneath ordinary levels. This is likewise because of the shutdown of multiplexes, cafés, hotels, and restaurants, which on the whole record for 10 to 15 percent of its business volumes.
The effect on the top line will likewise permeate through the working and primary concern levels. Be that as it may, amiable costs of key data sources and a bigger portion of variable expenses may help pad the effect to some degree.
In general, financial specialists ought to anticipate lucidity on the lockdown and request before thinking about the stock, which is as of now exchanging at rich valuations of 40x its CY20 evaluated profit.
Post-2017, obligation levels have descended as a large portion of the CAPEX done in earlier years have begun producing sources of income. Furthermore, they didn't do any new CAPEX in 2018. At present, it pays approximately 4 percent of its income towards money costs.
Their obligation means debt levels to equity is 1:1, however out of about Rs 980 crore of operational EBIDTA, they pay about Rs 211 crore towards Interests – an interest coverage proportion of 4x.
Promoters hold a 73.56 percent stake in VBL. FPIs hold another 13.03 percent stake. Common supports like Reliance Growth Fund, Sundaram Value Fund, and Tata Large and Midcap Fund together hold another 5.72 percent. Corporate bodies in Singapore own 3.73 percent and the little 3.96 percent is constrained by retail financial investors.