Alfa Transformer – Fundamentals
Market cap – 29.2cr
Face value – 10 rs.
Stock pe – 29
Industry pe – 31.4
sales march 2023 – 29.05 cr
Returns on equity – 7%
return on capital emp – 10%
Alfa transformers – About company
Incorporated in 1982, Alfa Transformers Limited manufactures small distribution transformers and offers related technical assistance and services, including repair work.
Product Profile:
a) Single Phase: wound core type transformers
b) Three Phase: Distributional transformers
c) Power Transformers: up to 15 MVA, 36 KV
d) Stabilized output transformers
e) Low Loss energy-efficient transformers
f) Transformers for Induction Furnace Duty
g) Transformers for ARC and submerged arc furnace duty.
h) Step Lap CRGO Lamination
i) Amorphous Metal Alloy Core Laminations.
Clientele:
The company has a reputed client portfolio from public and private sector, which includes Odisha Power Transportation Company Limited and Paschim Gujrat Vij Company Limited, Bhaba Atomic Research Centre & Department of Atomic Energy, etc. The private players include Reliance Jio Infocomm Limited, Reliance Udyog Private Limited, Odisha Solutions Limited, etc.
The company's foreign clients include Dubai Electricity & Water Authority, Ministry of Electricity & Water of U.A.E, Nepal Electricity Authority, and others from Suriname, Libya, and Egypt.
The company has started a new line of business operation a few years back i.e. Project Exports & Consultancy.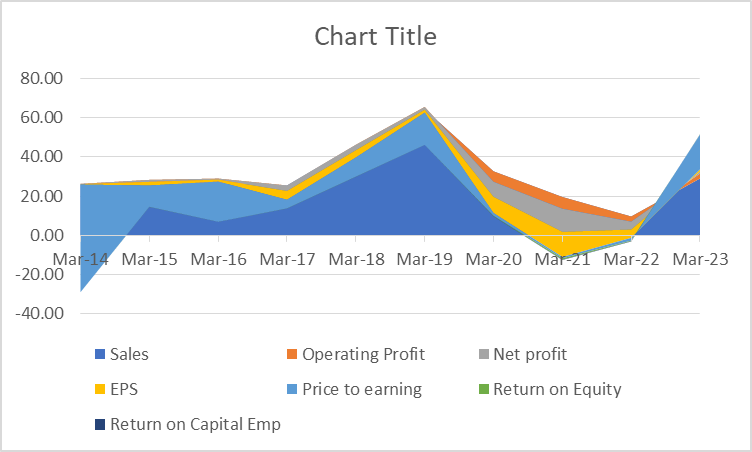 Alfa Transformers Business Outlook
Alfa Transformers Limited pure focus in key sectors are Dry Type Transformers, Oil Filled Transformers, Cryptocurrency Mining Transformers, Solar Application Transformers.
During the projected period (2023-2027), the Indian dry-type transformer market is anticipated to expand at a CAGR of more than 5%. The market is fueled by the rise in electricity demand, the expansion of the power grid, and the focus on renewable energy by the government.
Transformers designed specifically for cryptocurrency mining are called cryptocurrency mining transformers. The high currents and voltages needed for bitcoin mining are something that these transformers are made to handle.
With the rise in popularity of cryptocurrency mining, the use of transformers for mining has become more widespread in India. It's crucial to remember that mining cryptocurrencies is a very competitive and unstable activity. The prospect of profiting from cryptocurrency mining is not guaranteed; you can possibly incur a loss.
Transformers used in solar power plants are known as solar application transformers. These transformers are used to either step up or step down the power from the utility grid to the solar panels depending on the situation.
In India, the use of solar application transformers is expanding along with the use of solar energy. It is crucial to remember that solar power systems are a sophisticated and specialized technology. For the installation and proper operation of your solar power system, it is crucial to speak with a certified solar engineer.
Detail fundamental outlook
As per above data of 10 years, we can clearly observe that, current financial year company able to change its financial trend.
yearly sales rising to 30cr, and able to generate highest ever yearly operating profit at 2.56 cr in past 10 years.
and this growth able to give 7% return on equity and 10% return on capital employed, which is again highest and positive ever in past 10 years.

fundamentally stock is performing at highest now with greatest growth in past 10 year, company is engaging in transformers business with good client base and even they finding new opportunities to develop and move ahead.
technical chart study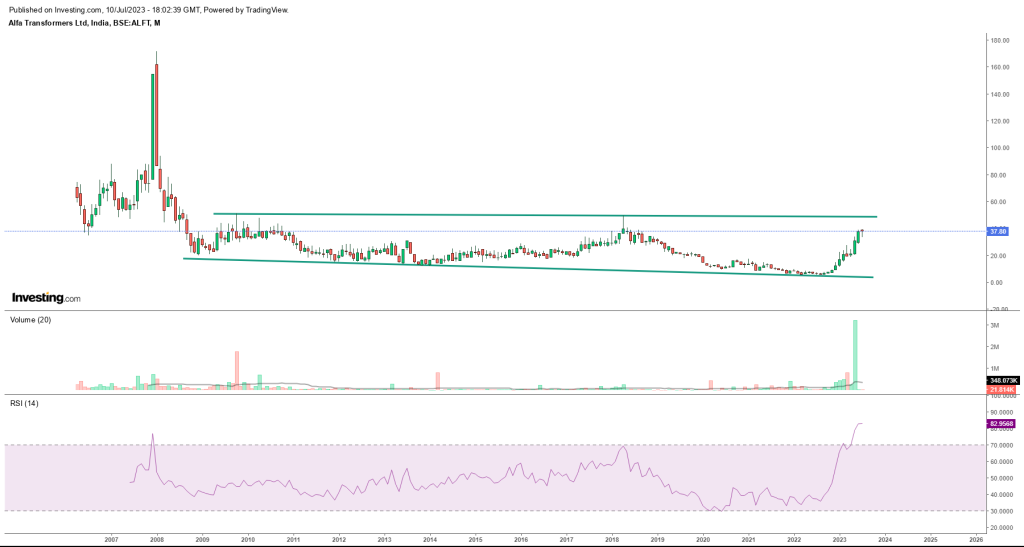 As per monthly chart study, we can see that from past 15 years stock is trading in a channel or we can say its trading in expanding wedge, and rsi is moving and sustaining above 70 level, which we can say as stock is getting over strong on long term chart, and even if we look at volume then we can observe that, recent move in a stock happen with strong volume breakout too. so technical observation suggesting that stock has taken bottom support and again looking to test upper channel level and if able to cross that level then we can see strong move from this stock.
as per level we can expect it to test 50 mark first and if able to cross and close above 50 on monthly chart then stock can even go for upper targets till 100-150-250 in coming 2-3 years.
Good consolidation, strong price action and expected supporting volume can produce strong long term breakout in stock. Price is hinting upcoming development, one need to read it properly.
our final take
as we know that, price discounts everything.
stock has given good technical breakout with strong volumes on weekly and monthly chart.
fundamental data of company suggest that stock is at pick point of its development and growth story.
If stock is on technical breakout with strong and developing fundamental figures, its means company is going to grow further with strong base and thus, we consider this stock as and good long-term investment which can give good returns in coming 2-3 years.