Monthly Chart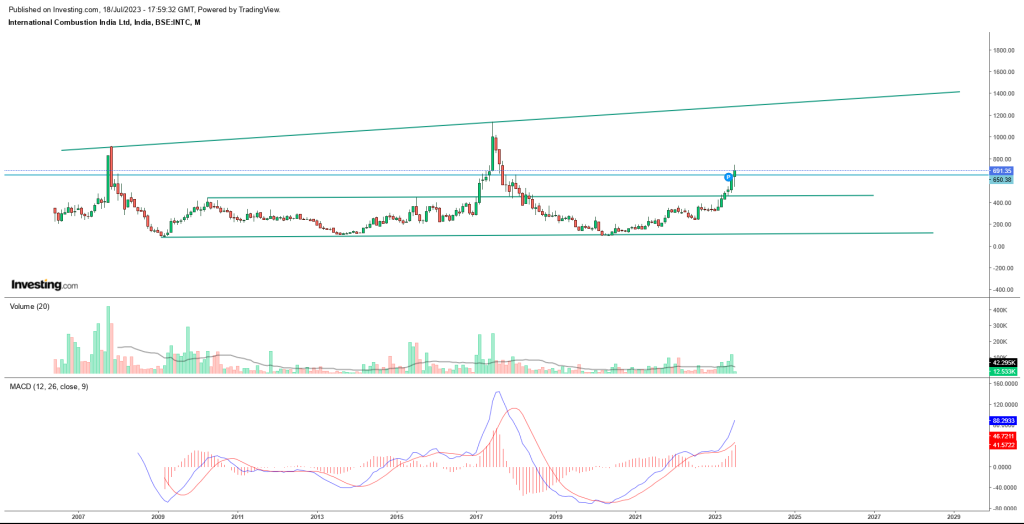 Impressive long term chart, stock has form rounding bottom formation and able to break its previous resistance levels, and even able to cross mid point range of visible expanding pattern.
in a recent past stock able to cross its mid-zone with strong volumes and thus it can lead to test upper trendline near to 1300 and then after we can still expect a fresh breakout in stock which can give targets till 2300-2600 zone.
overall strong chart with good price action and expanding chart patterns.
good buying zone is 550-700 and expected to see move till 1300-2600 in coming year.

good for investment for long run, having a potential for mutibagger returns and one should keep holding till charts are good and company perform well.
Fundamental study for International Combustion (India) Ltd
International Combustion (India) Limited is engaged in the manufacturing and supply of Vibrating Screens and Feeders, Cone Crushers, Bulk Material Handling Equipment, Mining haulages, Raymond Grinding Mills, Air Classifiers and Flash Drying systems and Geared Motors and Gear Boxes.
Company has manufacturing facilities at Nagpur, Kolkata, Aurangabad & Ajmer.
Product portfolio
Mineral & Material Processing & Handling Equipment (58%)
Geared Motor & Gear Box (35%)
Building Material – Dry mix products (7%)
Technological Collaboration
Company has license agreement with CAPA, Spain for manufacture of various building material products such as dry mortars with advanced technology
Mozer Dryers JV Termination
Mozer Process Technology Pvt Ltd, a JV between the Company and Allgaier Werke GmbH, Germany, has been terminated with effect from Dec. 2020. The Company has written off ₹50 lakhs in its books. However, the technology transfer agreement dated July 2012, between the Company and Allgaier Process Technology GmbH, shall continue to be in force and the Dryers manufactured by the Company be marketed and sold in India and the other South-Asian countries directly by the Company.
Financial figures and Facts
Market Cap ₹ 165 Cr.
Current Price ₹ 691
Stock P/E 19.9
ROCE 13.0 % ROE 8.51 %
Industry PE 35.4
as per above data its a small to midcap company good return ratio, but still trading below its industry PE, which can even hit that there is still good scope for growth.
More detail study of its 10 year balance sheet will give us a clear hit about its long term prospect is as below.

above data shows that in past 10 years, company able to grow its sales by almost 65-70%, even operating profit is almost 3.5 times higher than its average, and in FY 2022-23 company able earn highest net profit in past 10 years which is almost 10 times greater than its average. and they are improving on their margins too.
overall above data indicate that, company increasing its sales and operational profit and reducing its debt with increasing in OPM and its overall strong effect we can see on its Net profit, and as net profit and margins improves, company will surely grow further and as an impact we can see its results on stock price too.

below is graphical chart representation of its fundamental data and its growth.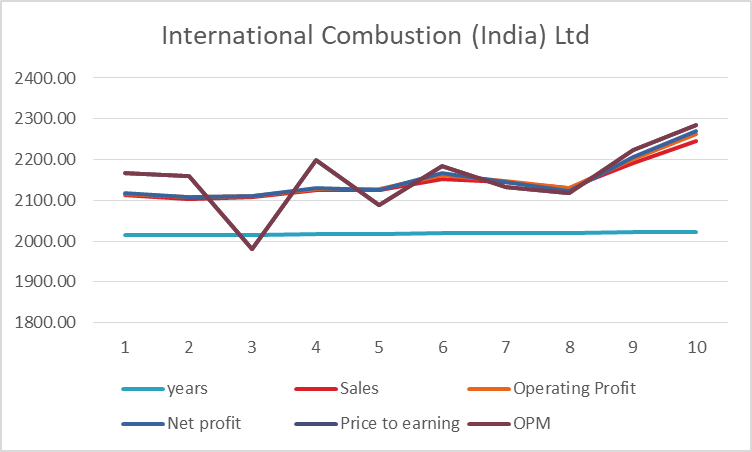 above is fundamental data with the help of chat.
in past two years company company has given good growth as an result we can see that sales, net profit OPM all is at 10 years high.



OUR TAKE
As per overall data analysis we can see that as per technical chart stock has given strong breakouts and expected to give further move till 1300-2600 also, and with fundamental data we can sense that company is improving and growing in its overall business and we expect them to keep this growth continue. So indication is very clear, strong price action and good fundamental stock can give mutibagger returns in coming year. so we can in future how this combination works for this company.