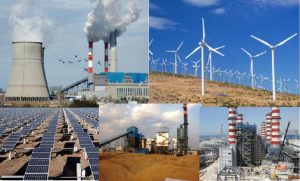 India is estimated to ramp up its power generation capacity to massive 500GW by 2030 for this Government of India is likely to spend a whopping $1 trillion (about Rs 65 lakh crore) by 2030 to boost its power infrastructure as one of the world's largest energy consumers main goal is to provide 24/7 electricity to its citizens.
The power sector in the country is at an developing stage and the main aim is on developing an integrated outlook with transparent policies on tariffs and fuel pricing which enhance the ease of doing business, Power Minister Piyush Goyal said here.
"When the world is witnessing a depressed economic atmosphere and there is almost no growth, India is a shining spot. We will use this image and further strengthen it to invite countries such as Australia to invest in the country," he told PTI on the sidelines of the India-Australia Energy Dialogue.
India and Australia should come together and invest heavily in several sectors, with energy being an important dimension. India's focus is on Liquefied Natural Gas for power plants, coal mining, clean coal technologies, renewable energy, Research and Development as well as tie-ups with premier research institutes, he added.
"We are a very big and growing market. It is estimated that India will spend around Rs 65 lakh crore on the power sector in the next 15 years to meet its growing demands and providing clean, affordable and 24/7 electricity to its citizens," said Goyal, who also holds the Coal and Renewable Energy portfolios.



Piyush Goyal is reported to be heading a high-level government delegation to deliberate with Australian government and businesses on ways to increase their participation and bring more efficiencies in India's power sector. An industry delegation, led by business chamber CII, is also on board the minister.
India is all gearing up and has now set an ambitious targeted milestone to add 175 GW of renewable energy generation capacity by 2022. The country main goal to have 100 GW of solar power by 2022 along with 260 GW of thermal and nuclear generation and 62 GW of hydro generation capacity.
As per International Energy Agency (IEA) forecast, India would invest about USD 845 billion in T&D (transmission and distribution) networks between 2015 and 2040 to enable and explore universal access to power for its citizens of the country.
Further Elaborating the initiatives taken by his ministry to encourage clean energy, the minister said India has one of the toughest regulations on thermal power.
"Our Prime Minister has pledged his commitment towards protecting the environment and we are working on his vision. Our norms on thermal power are more stringent that those in some of the developing countries," he noted.
The minister said for India to further strengthen its position on creating a sustainable environment and at the same time expand the economy, it has to seek cooperation from countries working on clean energy technologies and utilize them.



Top Five Power Sector Companies that have substantial growth potential
1). Tata Power
This company's core business is generating, transmitting and distributing power. As per our study company's main goal is on improving its portfolio of non-fossil fuel based power and couple of initiatives to reduce debt. The company has undertaken steps to revive its troubled 4,000 MW Mundra plant, which will improve its fundamentals going forward.
2). CESC
This power utility company is engaged in the generation and distribution of electricity. We are bullish on CESC due to its attractive valuations. On the other hand couple of respected brokerage house expects the pending demerger process to be value accretive and unlock value for the company's business verticals. In addition, impending turnaround in Spencer Retail, a CESC subsidiary, will provide further growth trigger.
3).NHPC
A government enterprise with Mini Ratna status, it is totally involved in electricity generation using hydroelectric plants. According to our reseach and study lower under recoveries and capital cost approvals are likely to boost earnings in future. Additionally, the company has low regulatory risk with high growth potential due to the large untapped water energy potential in India.
4).Power Grid Corporation
The Navaratna PSU main operations are in power transmission with responsibility of planning, implementation, operation and maintenance of the Inter-State Transmission System. According to us Power Grid is least exposed to operational risks and offers a safe bet in the high growth power transmission sector. The company's earnings are likely to grow by 20% Compound Annual Growth Rate over the next two years, aided by higher capitalization, huge capex pipeline, steady regulated RoE and well balanced order book.
5). NTPC
This PSU with Maharatna status is involved in electricity generation and allied activities. We are very bullish on the stock as it believes the company has enough cushion to protect its RoE and it remains best placed to address issues of PPA and fuel unavailability. Top brokerage companies expects the company's strong capacity addition pipeline to lead growth in profitability over the next three years.