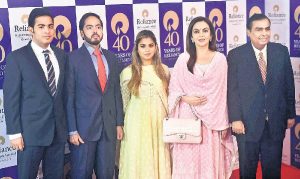 Mukesh Ambani told the meeting at Reliance Industries Limited's meeting that how much has changed in his company over the last 4 decades. Reliance Industries Limited, which started in 1977, has a business turnover of Rs 3,30,000 crore, which has increased 4700 times in the past 40 years. Not only this, Reliance's profits have increased 10000 times in the past 40 years.
Reliance Industries Chairman Mukesh Ambani is very optimistic about India and America, because there are aspirations of a billion people in India, while there has been a fundamental transformation of energy scenario in America.
Mukesh Ambani told what changed the 40-year journey
1). Reliance's turnover increased 4700 times in 1- 40 years.
2). In these 40 years the net profit has increased from 30 million to 30 thousand crore. Net profit increased 10 thousand times.
3). In 1977, Reliance's assets were Rs 32 crores, which is currently worth Rs 7 lakh crores. This is 20 thousand times more.
4). The market capitalization of the company increased from Rs 10 crore to Rs 5 lakh crore in 1977, which increased 50,000 times.
5). The value of investing 1,000 rupees in Reliance's shares in 5-1977 has gone up to Rs 16,54,503 today. Thus, it increased by more than 1600 times.
6). In the year 6-1977, the company had 3500 thousand employees and today 2.5 million people work for Reliance worldwide.
7). Mukesh Ambani said that the company was a small startup four decades ago but today it is the inspiration of many companies in the world.



The richest person in the country and the second richest person in Asia, in a special conversation with a private TV channel in his 27 Manjila Bhavan in Mumbai, said that I am more optimistic than most people. He was asked how he had a vision of the global economy five years after the financial crisis started.
Ambani said that despite the country's growth rate falling below 5.5 percent and despite the complaints of foreign investors regarding economic reforms and poor infrastructure, it is hopeful of India's economic situation.
He said that India's growth rate has come down, but I am quite optimistic. Ambani also expressed similar hope for America. He said that my idea is that this year, especially in America, the speed will return, because the fundamental changes have changed in the US energy scenario.
Ambani said that America will be free from foreign imports in the energy sector over the next five to seven years. Explaining the reason, he said that he has got non-conventional energy in the form of shell oil and gas. This will benefit not only the American citizens, but people around the world.