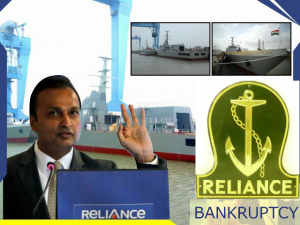 Reliance Marine and Offshore has been admitted into insolvency for its failure to repay dues worth nearly ₹1,000 crore. Its parent Reliance Naval and Engineering is facing the same problem on a larger scale, with an IDBI-led group of lenders turning down a resolution plan. The Reliance Anil Dhirubhai Ambani Group has been struggling with high debt – auditors to its firms have been pointing out discrepancies in financial statements and even quitting. Earlier this year, Reliance Communications filed for bankruptcy with dues of almost ₹46,000 crore.
Can Anil Ambani make a Comeback?
This is considered as one of the worst year of 60-year-old Anil Ambani's professional life. Just after two months of Reliance Communications filed for bankruptcy, yet another company from ADAG group Reliance Marine was today looking forward for insolvency proceedings, as per an Economic Times report.
The group's telecom venture, Reliance Communications went bankrupt in May, 2019 with massive unpaid dues of around ₹46,000 crore.
Reliance Naval is drowning?? IDBI has turned down the offer of resolution plan for reliance naval because the company is not servicing their debt of 9000 cr. Reliance Marine and Offshore is a subsidiary of Reliance Naval, whose shares are trading at a mere ₹1.22. The debt of Reliance Naval is a 100 times that of the company's market value of ₹90 crore as of today.



Lenders will initiate bankruptcy. So the Shares fell down today. However the stocks of ADAG others company is doing good. Anil Ambani had bought over Pipavav Defence, a struggling company in 2015 and renamed it Reliance Naval, hoping to bag defense engineering contracts from the government. And he did. The company had contracts worth ₹2,500 crore from the Indian Navy, but as the deadline was overshot by 4 years, it decided to encash the bank guarantees that RNaval gave.
A lesson to learn from the news about Anil Ambani and Patanjali is that business success does not depend upon how much money one has, or who one knows, or what emotional appeal you use to market your products, you need quality and prudence to succeed long term.
It is not just about losses, downgrades or debt, ADAG has a crisis of confidence.