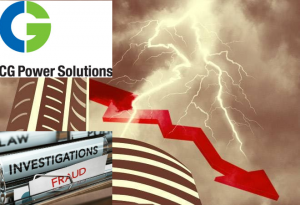 CG Power and Industrial Solutions Limited, formerly known as Crompton Greaves is an Indian multinational company engaged in design, manufacturing, and marketing of products related to power generation, transmission, and distribution located in Mumbai. It is part of Avantha Group.
An internal probe by CG Power's board of directors has unearthed several irregularities in the company's financial statements. The group's total liabilities and advances could have been understated by ₹1,608 crore and ₹2,807 crore, respectively, as of March 2018, it told the exchanges. Besides, some company assets were allegedly guaranteed as collateral without due authority. The fraud, "purportedly carried out by identified company personnel… including certain non-executive directors," went on for two years. Shares of the Gautam Thapar-promoted firm lost 20% to hit the lower circuit on Tuesday while Yes Bank, a significant minority shareholder, tanked 7%.
How can Indian Companies prevent misrepresentation of financial statements?
How long will it take for Indian promoters to realise that corporate dishonesty does not pay? Or is this so deeply ingrained for generations that it will never leave us? Once the first stories of corruption circulate within the company it is time to immediately do a forensic audit. So perfectly "cooked books"!! Can we really rely on audited statements, albeit its a common mean of assessing a company.
CORPORATE GOVERNANCE OF INDIAN COMPANIES
The issue of Corporate Governance is one of the most debated topics . When we talk of corporate governance it should be seen not only the corporate sector but also other stake holders including audit firm rating agencies etc..
Today we find that instances of malfunctioning of companies erupts all sudden and unexpectedly It not only happens with small companies who deliberately appear to do such man-oeuvre but also well established . One of the Non Banking financial Corporation's (NBFC) we have seen today again declared that it can default in payment of its debt so really a rethinking is required to put a permanent solution or strengthening the system of whistle blowers.



This is something new or different kind of fraud reported, which has been in public domain of Indian corporate world. There are only some/very few senior officials ( but without any involvement of all KMP and promoters (?) — a great deviation from a regular long prevailing practices of such frauds in India business world) and their staff has did said reported frauds. Otherwise, in majority of the frauds reported( or remains to be reported in coming time) till date, primarily promoters oriented with their KMP with/without other outside professional/agencies associated in different-2 professional capacity like auditors and banks etc. Moreover, no officials and their staff, who had/has involved in all such reported frauds in past, either jointly ( or not) with company promoters, has/had never been penalized by any promoters and their top management, except maximum giving a golden hand sake farewell only in case, same is required or all they has/had been prosecuted jointly by prevailing law of the land latter or sooner or never.
What should Retail investors do to oversome this kind of situation?
'Suspect' transactions detected at Gautam Thapar's CG Power; stock tanks 20%. YES Bank suffers collateral damage. Fraud at CG Power was purportedly carried out by employees for over 2 years. Post 2008 crisis, many Indian companies spent a fortune to salvage what they already invested or plug the holes in their balance sheets.
CG Power is already feeling the pinch. Its failure to restructure business both in overseas and domestic markets, delay in asset monetization, shrinking liquidity, absence of true and timely financial information, drop in credit ratings and mounting debt in books could cause a prolonged pain, which may or may not ever ease.
As they say "buy the rumor, sell the news". The stock has already fallen this year to the current Rs 11.80, from about Rs 50 earlier.
Under the circumstances, the best case scenario appears to suggest that investors should exit. The worst possibility is to catch the falling knife.