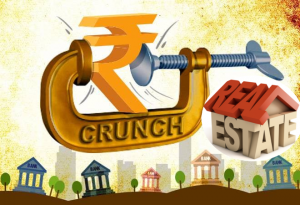 The liquidity crunch has impacted the real estate market quite badly. Till date, there are US$63 billion of stalled residential projects in India according to Anarock Property Consultants. These developers are locked in a downward spiral with shadow banks.
Measures have been taken by RBI to improve cash flow to shadow lenders, such as allowing banks to lend more to the sector, providing partial credit guarantees, and easing banks' mandatory liquidity ratios. Currently, the top 50 NBFCs contribute about 75% of the sector's loans, and RBI ensures it will not allow another systemically important NBFC to fail.
The number of Indian real estate companies tipped into insolvency has doubled in less than a year since the collapse of a key non-banking financial company (NBFC), an event often compared to the Lehman crisis that squeezed American funding markets a decade ago.
How deep is the rot in India's real estate and financial sector?
There is a gap between small developers and big brand based developers in the Indian real estate sector. But in the recent times of crisis, the gap has grown even more, as 50% of the small-sized developers have exited the business by 2017-18, whereas a majority of the remaining ones have merged with the big companies to sustain in the new market conditions. This scenario is more regulated and backed by authorities for the benefit of home buyers, who choose from the options available on a sentimental value. This is where big developers have been able to sustained and are witnessing growth again. These brand-driven players are able to retain and acquire customers because of their ability to deliver even in worst conditions, which sets them apart. An excellent example of this scenario is the Lodha group which has acquired more than 30 percent of the real estate market in MMR with Rs 3000cr of sales in 2019.



India's mini-Lehman moment: Bankruptcies double at real estate developers
Post the IL&FS debacle, developers inability to refinance debt and rising cost of funds has hugely impacted the Indian real estate sector. NBFC's are contracting their wholesale loan books and are also constrained by ongoing liquidity or own asset quality issues. The period of October-March which is usually seen as a peak in lending activities has now significantly slowed down. Lenders, today, have become very selective, thereby leading to limited/no availability of financing.
We believe that the government needs to immediately step in and iron out the current challenges for NBFCs and which will in turn increase activity in the real estate sector. Amongst the many other bailouts, Indian government need to undertake another one for real estate as well.
While there shall be more when one gets into details, what it does not account for are 2 critical aspects:
1. Slow end-user demand – why will the new round of developers buy the land parcels
2. A weak government fiscal position – where will the funds to issue the G-secs come from.
Essentially, it is a recommendation for the Indian government to recapitalize the banks and the shadow banks for the real estate losses parked on the financial sector balance sheets.
The economic slowdown that plagued the Indian Markets recently has had a number of businesses feeling stumped over devising new customer engagement strategies and making them work. However, marketeers need to watch closely through ways they can still leverage by adapting to the shifts in consumer behavior, and boost their conversions.
The most affected are sectors such as automobiles or real estate. However, even in this phase, customer expenses continue. The change is, they spend more on small items to restore their happiness.
With the continuous dip of Indian Economy.The real estate, manufacturing and automobile sector being the worst performer. The big question is are we heading towards #recession? The whole state of our economy and manufacturing sector is pretty bad. India which was once the booming place for investments is heading towards a big crisis.
The question is, how shall marketeers capitalize in present situation? Slowdowns, are some perfect opportunities for brands to prove their value to the customers. By cashing in at opportunities of festivals or by bringing in economy-offers amid the crisis, they are able to promise a wiser spending to the customer.
As such, the strategists in every sector need to sit down and identify which are those offering without which customers cannot survive even in a crisis. For an automobile company, it could be car repair and restoration, for instance, and for FMCGs, it could be multi-value pack of products.
Although RBI can claim they were the first to spot the irregularities and were taking necessary steps. It is definitely the question of too little too late. Who else is hiding more of such Real Estate or sunken business loans? High time for regulators to be agile but can Indian economy bear a crackdown on these banks right now?Winning the customer sentiment with best-in-class offerings during these times increase your chances of boosting engagement. Let's think!