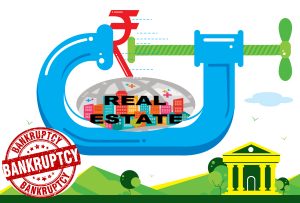 The count of realty firms entering bankruptcy has doubled in less than a year since IL&FS went belly-up, Bloomberg reports.The number has risen from 209 in September 2018 to 421 in June 2019 as a resultant credit squeeze impaired developers' ability to complete projects and service their debt.
Experts say the list of casualties may increase further as all players in the ecosystem – mutual funds, investors, banks and NBFCs – remain risk-averse.What compounds the sector's woes is the inventory overhang: the number of unsold houses in India's top 30 cities hit an all-time high of 12.76 lakh in June.
How the crisis in the shadow-banking sector is hurting the real estate industry in India
Number of real estate companies tipped into #bankruptcy has doubled in less than a year since the collapse of a IL&FS, an event often compared to the Lehman crisis that squeezed. Instead of lending them money, New Delhi should force developers to disgorge delayed projects to a land bank.
They'll get a fair value, but in the form of special sovereign-guaranteed bonds that must be used to repay loans. If a lighter balance sheet allows builders to complete other projects and exit the crisis stronger, fine.



If not, they'll go into bankruptcy – but with a lower debt load. As a government entity, the land bank would be able to obtain construction clearances more easily. To boost the value of its real estate holdings, it could also be allowed more liberal building-height and land-use norms.
It could then auction blocks to developers and use the proceeds to redeem the bonds. If executed well, taxpayers might even end up making a profit.And buyers will get the homes they've paid for. What's more, once a land bank is operational, it could even take over and sell the surplus land held in India's public-sector enterprises.
Unsold houses at all-time high of 12.76 lakhs in India's top 30 cities
Inventory of 12.76 lakh flats lying unsold which at current rate of sales will take 5-7 years to liquidate.Assuming rate of 40 lk/flat, the inventory is valued at Rs.Assuming debt to equity ratio of 0.4 times these projects must have availed financing of Rs.
Govt. launched a fund of 20k cr to help these non NPA and non nclt projects which will take at least a year to get operational.The amount is miniscule give the size of unsold and unfinished inventory.Without sufficient project sales, these projects cannot be completed and default to lenders and buyers.
Buyers will invest depending upon need, funds availability, job and economic stability.All the stakeholders will have to wait for sales to happen.Turning projects worth lakhs of crore into NPA is not a solution.
IBC cannot ensure sales or new fund to complete these projects.NPA provisioning requirement on these projects will wipe out capital of already capital straved banks and slow down the economy further. Need of hour is well defined one time restructuring policy by RBI.
How Indian Government can revive the Indian Real Estate Sector and Realty Companies get back on track?