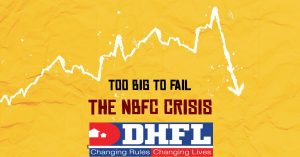 Dewan Housing Finance (DHFL) diverted ₹20,000 crore to its promoters' private entities, Moneylife reports, citing the findings of a forensic audit conducted by KPMG. Banks may push for a change in DHFL's management if the new details are proven true, Livemint reports. The findings could also endanger the company's proposed debt restructuring plan. In January, DHFL CMD Kapil Wadhawan and his brother Dheeraj were accused of siphoning off ₹31,000 crore through shell companies. DHFL has a debt of ₹83,873 crore and 45% of that is owed to banks.
Series of Debt Obligation defaults by IL&FS last year has already started a domino effect making India's financial system more vulnerable to Systemic Risk. With NBFC's like DHFL and Reliance Capital already being under pressure, Slowdown in growth and liquidity squeeze can act as a catalyst to further increase the risk of credit crisis and spike up NPA.
Bigger question is on Auditors of DHFL and PMC Bank. They never bothered to take Account balance certificate from debtors and creditors to reconcile? This is basic in auditing. If PMC showed made up debtor creditor then why were not detected?
What a pity that for so many decades the basic premise of doing business was dishonesty. I sometimes wonder why Indian businesses became so dishonest?
Was it our quasi-socialist upbringing and the evils it brought along like the license Raj which meant that businessmen could only succeed by being dishonest? So they were purely gaming a bad system. What do the owners of DHFL & HDIL share in common besides being from the same Wadhawan family? They managed to scam Rs. 20,000 Cr ($3 Bn) from DHFL lenders & Rs. 7,000 Cr ($1 Bn) from #PMCBank and its depositors.



Or is it our regulatory and legal framework that allowed business people to be dishonest easily because there was either no punishment or fear of punishment?
Or is it this just the Indian businessman's DNA? And is it a cultural phenomenon?
Tectonic shift in market value within the NBFC sector: some very interesting data on how the market value has shifted within the NBFC sector over the past 18 months or so. While the overall market value of the sector (as represented by the sample universe of top 28 companies in the sector) has held steady at Rs 8.6 lac crores over the period there has been massive value erosion in some of the largest NBFCs.
1) Indiabulls Housing – Rs 41401 crs
2) L&T Finance – 15406
3) DHFL – 17545
4) Reliance Capital – 14563
5) SREI – 4500
Very surprisngly even the very solid HUDCO (a govt company with the ability to raise tax-free bonds at very attractive rates) has lost Rs 9860 crs.
Biggest gainers are the two Bajaj entities. My take: some of the entities where high-value erosion has taken place also have issues around corporate governance!
Recently it was reported that DHFL has made payments. Their exposure is around Rs 550 crore. Now only one installment is pending," said RS Rajeev, MD and CEO of Bank of Maharashtra.
Bombay High Court putting an interim stay on payouts on loans securitised by DHFL brings a hidden risk in India's securitization market to the fore. Can this hurt the securitization market?



On a spreadsheet, resolution for restructuring DHFL appears simple enough – to let banks, mutual funds and other creditors try to recover what they can from the well-performing retail loans – but the trouble is, the rescue is entirely fictional.
The KPMG audit has reportedly found that the DHFL promoters had diverted nearly Rs 20,000 crore of bank loans to its related entities. DHFL owes Rs 83,873 crore as of July 6, 2019 to banks, the National Housing Board, mutual funds and bondholders, including retail bondholders.
Very critical eye opener news about NBFC company indicating a lot not only about one company but failure of total control n regulatory agencies for NBFC n finance industry. Lot of substantially prominent slippages/money adjustments undergoing successfully thus creating lack of trust n blocking money generation thru real lending to sectors who r actually in need n hv potential to contribute. Not much of implementation seems visible out of costly learning from IL&FS,DHFL ,other many NBFCs n other corporate's.