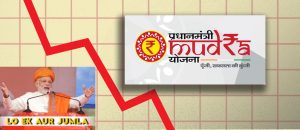 The Pradhan Mantri Mudra Yojana – the government's flagship lending scheme – has failed to give a big fillip to self-employment, an official survey accessed by Business Standard shows. Between April 2015 and 2018, the scheme enabled creation of 11.2 million jobs, of which 5.1 million were new entrepreneurs – much below the government's estimates. Beneficiaries under the scheme are provided unsecured loans of up to ₹10 lakh with the objective of encouraging entrepreneurship. But among those who got the loans, only a fifth utilised the money for setting up new establishments. The rest used it to expand existing businesses. Mudra Loans primarily work for refinancing and for lending to MICRO BUSINESS & units. These schemes are under Pradhan Mantri Mudra Yojana. There are various packages like shishu, kishore, tarun for funding needs.
Public sector NPAs of the loans issued under the Narendra Modi Mudra scheme have increased by Rs 9,204.14 crore in just 1 year as per the RTI. Women entrepreneurs continue to face hurdles to access bank credit, despite the plenty of loan options under Modi's flagship Mudra and Startup India schemes available for them.
On one hand the signal is clear they small industries create more jobs and are also more honest in loan repayments with NPA rates at 3% being 1/6th of large corporate's. On the other hand the Modi govt in name of creating value has been promoting corporate's at the expense of small businesses. In order to help startups in this battle of fundraising, the government of India stepped in with the scheme Pradhan Mantri Mudra Yojana in April 2015, which provides finance and loans to small businesses.
What Is Pradhan Mantri Modi Mudra Yojana?
MUDRA will provide credit up to Rs.10 lakh to small entrepreneurs & act as a regulator of Micro finance institutions. The Objective of the scheme is to encourage entrepreneurs and small business units to expand their capabilities and to reduce indebtedness.



Who should our banks and govt fund? The answer is super clear. The focus needs to move away from Large Corporates to this segment. The ones that are served by Mudra Scheme. And often unsecured. One reason is the higher rate of repayments and that means lower NPAs/risks (Less than 3% compared with ~18% for 'industry'). Made in Bad Loans @ Mudra scheme – Banks marked 30,000 cr as bad loans out of Rs 3.22 Lakh cr Pradhan Mantri Mudra Yojana (PMMY) Loans issued in FY19. A little known small finance bank from Bengaluru has accumulated Rs 2,193 crore worth loan defaults under Mudra Yojana, Prime Minister Narendra Modi's flagship scheme for providing collateral-free loans to small businesses.
The PMMY scheme was launched in April 2015. The scheme's objective is to refinance collateral-free loans given by the lenders to small borrowers :-
– Up to ₹ 50,000 is referred to as Shishu Loans.
– ₹ 50,001 to ₹ 5 lakh Kishore Loans
– ₹ 500,001 to Rs.10,00,000 Tarun
PMMY (as of now):
– There has been ₹9.49Tn overall NPAs as of March 2019
– Out of the 182.60Mn MUDRA Loans sanctioned, only 3.63Mn accounts defaulted as on 31st March 2019 i.e. only 1.99% of the loans sanctioned under MUDRA have turned bad over the years
– The proportion of NPAs was at 2.68% in 2018-19 whereas overall banking NPAs were at 9.3%
– One of the reason for low NPAs of MUDRA loans reasonably can be the fact that a bulk of them is given to women
– As of June out of 189.1Mn MUDRA loans, more than 65% were given to women borrowers.
Comparatively, it's inferred that small borrowers are not doubtful but the large ones reasonably are!
Mudra Loans Scheme Failure In Job Creation and Employement in India in last 5 Years
Indian Premier Narendra Modi has an amazing track record of ensuring the disappearance of millions of existing jobs – set aside creating the promised 25 million new ones annually – through whimsical policy decisions. For the first time since 1993-94, the actual size of India's male workforce has shrunk substantially. In fact, 11 million job losses were recorded in 2018 alone, and women accounted for 8.8 million. Apart from women and small traders, blue collar workers in the industrial and agriculture sector are the worst hit. Most importantly, the MUDRA scheme for self-employment has also flopped, leading to the government hiding real time data on self-employment generation. No wonder, by the end of his tenure, Modi is left with little alternative other than politically feeding on the corpses of soldiers, killed due to his government's deliberate glossing over of actionable intelligence.



One woman in every Self Help Groups will also be made eligible for a loan up to Rs 1 lakh under the MUDRA scheme," finance minister Nirmala Sitharaman said in Parliament while presenting the Union Budget 2019-20. Large number of Self Help Groups members have availed several rounds of credit from their groups and quite a few have used the funds for establishing their enterprises. Scaling up of these enterprises needs larger loans, which may not be possible from the current SHG bank-linkage loan program. This is the time that these women have to graduate to individual loans under MUDRA or MSME category, but that's not happening. This segment of women entrepreneurs is often refereed to as 'Missing Middle'. Expansion of the enterprises of these women not only raises their income levels but also provide huge job opportunities for the youth.
There is another reason why this is supercritical in nature. And it is the rate of job creation. The small and micro sector, often in the non-formal economy, is the power booster in job creation if you look at the economic data of India. If we have to create million-plus jobs every month, that growth can only come from the micro, small and medium segment.
Rising Mudra Loans Non Performing Assets (NPA's) at Record Levels
General public of India may have a sympathetic view towards start-up but will not be investing their hard earned money in them. Theoretically start-up can now raise money from stock exchange in India but practically not possible. Government can organise some startup summit, investor program but again is not really investing in startups. Banks are giving Mudra / CGTSME loans or to meet target's. Most money going into already running unit's, not really to create something new. A handful of VC's & angel investors are involved in almost all the start-up getting funding in India but their investment decisions more on herd mentality rather than vision. CONCLUSION : No real genuine startup funding happening, so no real development. Status quo maintained.



Mudra loans may cross Rs 3 lakh crore in 2019-20. Government data for the scheme for the last fiscal, till March 22, 2019, put the figure of Mudra sanctions at Rs 2.82 lakh crore to 541.27 lakh borrowers.
Mudra Loans Scheme will trigger India's next Banking Crisis
The entire banking sector has been under severe liquidity stress, following the IL&FS bankruptcy along with many leading players like DHFL reporting defaults. Taking into consideration these loopholes the Finance Industry Development Council (FIDC) said that NBFC should be allowed to avail the refinance facility. Earlier where the NBFC sector used to witness a growth of 15% in loan disbursement, is now facing a liquidity crisis with a massive drop-down in loan disbursement for about 19% in the 4th quarter of FY19.
The Pradhan Mantri Mudra Yojana- a government flagship scheme in order to support the micro enterprises of the country has been shown a red signal by the Reserve Bank of India on the issue of the non-performing assets (NPAs). According to Finance Ministry sources, RBI has cautioned the ministry that the scheme might turn out to be the next big source of NPAs, which have plagued the banking system. The total disbursements under the scheme stood at Rs 2.46 trillion in FY 18, stated by the annual report of PMMY, 2017-18. Further Bhartiya Janta Party Close Political ally Shiv Sena commented that Demonetization and haphazard implementation of GST impacted the recovery of Rs 11,000 crore of loans under MUDRA scheme.