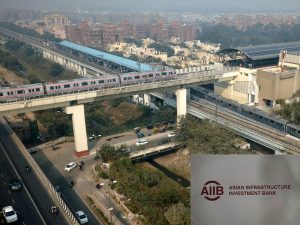 India's urban transport projects may soon get $2.5 billion from the Asian Infrastructure Investment Bank. A company executive told Economic Times that AIIB was in talks to pump $400 million each into the Chennai and Mumbai Metro rail networks. Other potential investments include $500 million in the Mumbai Urban Transport Project and $400 million in a ring road project in Chennai. AIIB is eyeing long-term project financing in energy, roads and railways – sectors banks have been hesitant to lend to because of the spectra of bad loans.
The Asian Infrastructure Investment Bank AIIB is planning to invest up to $2.5 billion in urban transport projects in India with Mumbai – $440Mn, Bengaluru – $350Mn, Chennai – $400Mn. The two most recent projects approved for India by AIIB's Board of Directors—the Mumbai Urban Transport Project 3 and Tata Cleantech Sustainable Infrastructure On-Lending Facility—bring our total in-country financing to USD2.9 billion.
Aligned with our commitment to support our members' development priorities, these two projects are expected to ease congestion in #India's financial hub and boost private capital investment in renewable energy, power transmission and water infrastructure. Metro development in these centers has been a laggard for a long time. Hopefully this impetus from AIIB would expedite the metro development in these urban centers plagued by traffic and air quality issues.
As the world is waking up to Asia's century, there are some institutions which are gaining importance and will become even more important in coming years due to its financial muscle and political clout. Just as later part of 20th century was dominated and IMF and World Bank, emerging Asia of 21st century will give rise to Asian organizations of prominence. AIIB (Asian Infrastructure Investment Bank) is one of them.
Project execution and dispute resolution are holding back infrastructure growth in India. I hope these problems are fixed soon for the future of the economy. The Asian Infrastructure Investment Bank (AIIB) is working with Tata Cleantech to mobilize private capital for investments in sub projects that will support: (a) increased supply of renewable energy generation, (b) expanded transmission and distribution network, and (c) enhanced water infrastructure in India.