About Company
Time Technoplast Ltd: Beyond Plastics: A Glimpse into Their Diverse Portfolio of Advanced Materials
In an era where sustainability and innovation go hand in hand, Time Technoplast Ltd stands as a beacon of progress in the world of advanced materials. While the company's name might suggest a singular focus on plastics, it has successfully diversified its portfolio to include a wide range of cutting-edge materials and solutions that cater to industries far beyond traditional plastic applications.
A Journey Beyond Plastics:
Time Technoplast Ltd, founded in 1989, initially started as a manufacturer of plastic containers and packaging solutions. Over the years, the company's commitment to innovation and a sustainable future has driven it to explore and invest in a diverse array of materials and technologies. Today, Time Technoplast operates as a multinational conglomerate with a presence in more than 32 countries, offering a comprehensive suite of solutions across multiple industries.
Diverse Portfolio of Advanced Materials:
Advanced Composites: Time Technoplast has made significant strides in the field of advanced composites, blending different materials to create high-performance products. These composites find applications in industries such as aerospace, automotive, and construction. Their lightweight yet robust composite materials are contributing to fuel efficiency and structural integrity in transportation and infrastructure.
Agricultural Solutions: Recognizing the importance of sustainable agriculture, the company has developed a range of innovative products for the farming community. These include advanced irrigation systems, crop protection solutions, and modern farming equipment. Their commitment to enhancing agricultural productivity is in line with global efforts to ensure food security.
Packaging Solutions: While their roots are in plastics, Time Technoplast has evolved its packaging solutions to be more sustainable. They offer biodegradable and eco-friendly packaging options, aligning with the growing demand for responsible packaging materials.
Automotive Components: In the automotive sector, Time Technoplast's advanced materials play a crucial role in the development of lightweight components, contributing to fuel efficiency and reduced emissions. Their expertise in engineering plastics and composites has positioned them as a preferred supplier for many automotive manufacturers.
Infrastructure Development: The company actively participates in infrastructure development projects worldwide, providing solutions for water management, sewage systems, and construction materials. Their advanced materials enhance the durability and sustainability of critical infrastructure.
Commitment to Sustainability:
Time Technoplast Ltd's foray into diverse materials isn't just about business expansion; it's deeply rooted in sustainability. The company is committed to reducing its environmental footprint and promoting eco-conscious practices. Their eco-friendly materials and recycling initiatives are part of their larger commitment to the circular economy.
Global Presence and Future Ambitions:
With a global presence and a commitment to innovation, Time Technoplast Ltd has positioned itself as a key player in the advanced materials industry. Its future ambitions include further expansion into emerging markets, continued investment in research and development, and a dedication to developing materials that push the boundaries of what's possible.
In conclusion, Time Technoplast Ltd has transformed from a plastic-focused company into a diversified materials powerhouse. Their dedication to sustainability, innovation, and a commitment to making the world a better place through advanced materials is a testament to their vision. As they continue to expand their portfolio and reach, the company's impact on various industries and the environment is set to grow, making them a name to watch in the world of advanced materials.
Technical Chart Study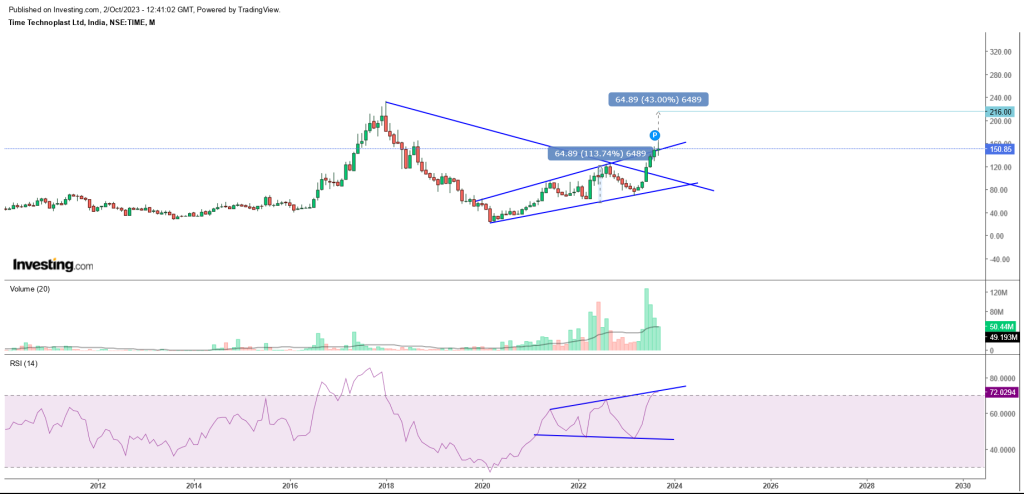 Time Technoplast Ltd: Chart Analysis
In recent months, Time Technoplast Ltd has demonstrated a compelling price trajectory, characterized by a series of higher highs and higher lows. This pattern indicates an upward trend and suggests that the stock has been gaining strength over time. Furthermore, a noteworthy development is the recent breakout above the upper boundary of a rising channel. This technical breakout hints at the stock's potential to reach the 216 level in the near term. Notably, the stock's all-time high sits at 232.80, and surpassing this significant milestone on the monthly chart could usher in a new era of growth and set ambitious price targets.
The chart also reveals an interesting trend in trading volume. Beginning in June 2020, which marked the onset of the pandemic, Time Technoplast Ltd experienced a remarkable increase in trading volume. This surge in volume coincided with a period of heightened market volatility, where investors were seeking opportunities in sectors poised for growth. Despite the challenges posed by the pandemic, the stock exhibited resilience, and this influx of trading volume reflects renewed interest in the company.
The sustained growth in trading volume aligns with the overall pattern formation in the stock's price. It suggests that market participants continue to show confidence in Time Technoplast Ltd's prospects. This is an important indicator of investor sentiment, as rising volumes accompanying rising prices often indicate a broad-based bullish sentiment.
However, it's essential to remember that technical analysis, while insightful, should be complemented by a fundamental understanding of the company and the broader market context. Examining the company's financial health, competitive positioning, and industry trends can provide a more comprehensive perspective on its growth potential.
Fundamental data study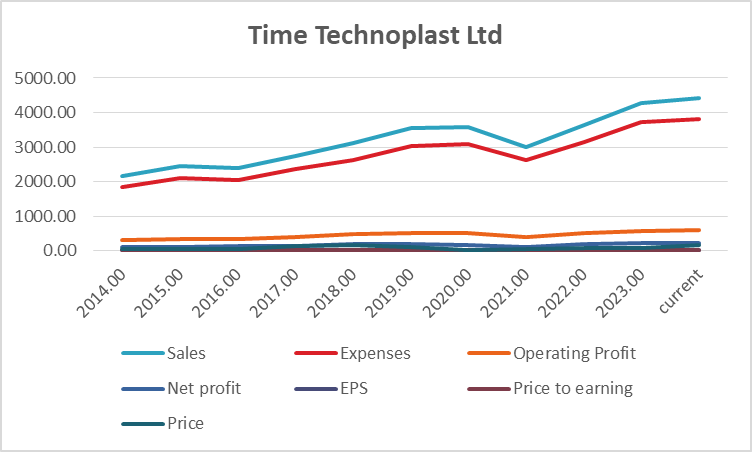 Data Analysis:
Let's analyze the financial data of the company over the years from 2014 to the current year (2023) and assess its trend and key factors.
Sales Growth:

Sales have consistently grown from 2014 to 2023, with a substantial increase from ₹2155.14 crore in 2014 to ₹4424.30 crore in 2023.
The overall sales growth during this period is approximately 105.04%.

Expenses:

Expenses have also increased over the years but at a slower rate than sales, resulting in improved operating profit margins.
The expenses in 2014 were ₹1846.86 crore, which increased to ₹3823.54 crore in 2023.
The overall expense growth during this period is approximately 107.63%.

Operating Profit:

Operating profit shows a consistent upward trend, reflecting efficient cost management and revenue growth.
It has increased from ₹308.28 crore in 2014 to ₹600.76 crore in 2023.
The overall operating profit growth during this period is approximately 94.35%.

Net Profit:

Net profit has also steadily increased from ₹95.43 crore in 2014 to ₹230.74 crore in 2023.
The overall net profit growth during this period is approximately 141.64%.

Earnings Per Share (EPS):

EPS has seen continuous growth, reflecting improved profitability and a positive trend in the company's performance.
It has risen from ₹4.54 in 2014 to ₹10.20 in 2023.

Price to Earnings (P/E) Ratio:

The P/E ratio has varied over the years. It reached its highest in 2017 at 19.03 and its lowest in 2020 at 3.34.
In 2023, the P/E ratio stands at 14.78.

Stock Price:

The stock price has experienced significant fluctuations. It saw substantial growth, particularly between 2018 and 2023.
In 2014, the stock price was ₹40.35, and it reached ₹150.85 in 2023.
Turnaround Factors:
The company's consistent sales and profit growth indicate effective strategic management.
Improvement in operating profit margins reflects efficient cost control.
Increasing EPS suggests higher profitability per share.
Strong Factors:
Consistent Sales and Profit Growth: The company has demonstrated consistent sales and profit growth over the years, showcasing its ability to expand and maintain profitability.
Improving Profit Margins: The improvement in operating profit margins indicates effective cost management, which is a positive sign for investors.
Earnings Growth: The rising EPS reflects the company's ability to generate more earnings for its shareholders.
Weak Factors:
Fluctuating P/E Ratio: The P/E ratio has been volatile, suggesting fluctuating investor sentiment and possibly higher risk perceptions in certain years.
summary
Based on the provided financial data analysis, Time Technoplast Ltd appears to be an attractive investment opportunity. The company has demonstrated consistent growth in sales and profits, with improving profit margins and rising EPS over the years. These factors indicate strong financial performance and effective management.
However, it's important to note the fluctuating P/E ratio, which may indicate periods of higher risk or uncertainty in the market's perception of the company. Investors should carefully assess the market dynamics and consider their risk tolerance before making investment decisions.
In conclusion, considering the data provided and the company's strong financial performance, it appears to be a favorable investment option. However, as with any investment, conducting thorough research and staying informed about market conditions is essential.
Conclusion: based on technical chart and fundamental data
Time Technoplast Ltd presents a compelling investment opportunity based on both financial and technical analysis.
Financial Analysis Highlights:
The company has consistently demonstrated robust sales and profit growth over the years, reflecting its strong market position and effective management.
Operating profit margins have improved, indicating efficient cost control.
Earnings Per Share (EPS) has shown steady growth, indicating higher profitability per share.
Net profit has steadily increased, highlighting the company's ability to generate higher earnings.
Technical Analysis Highlights:
The stock has exhibited a promising technical pattern with a series of higher highs and higher lows.
A breakout above the rising channel resistance suggests strong upward momentum.
The all-time high at ₹232.80 is a key level to watch, and a close above this level could trigger further gains.
The stock price currently stands at ₹150.85.
Recommendation:
Buy Opportunity: Given the strong financial performance and the breakout in the technical pattern, investors may consider a buy position in Time Technoplast Ltd.
Breakout Level: A significant breakout level to watch is the all-time high at ₹232.80. A close above this level could indicate a new phase of growth.
Target Level: In the event of a breakout, the next target level to consider is ₹216.00, as indicated by the technical analysis.
Support Level: The stock has shown strong support around ₹120.00 based on historical price action. This level could act as a support in case of pullbacks.
It's important to note that while the financial and technical analysis suggests a positive outlook, all investments come with inherent risks. Investors should conduct thorough research, consider their risk tolerance, and monitor market conditions closely. Diversification of the investment portfolio is also advisable to mitigate risks associated with individual stock investments.