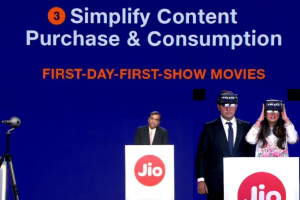 Multiplex giants PVR and Inox are questioning Reliance Industries' plan of bringing movies playing in cinema halls to people's devices. While PVR stressed the importance of maintaining the eight-week exclusive theatrical window for new movies, Inox said any deviation from this globally accepted norm could cause a 70% slide in business from domestic cinema screenings. Box office exhibition accounted for 75% of the total filmed entertainment revenue in 2018. Starting next year, RIL's intent is to offer 'first day, first show' movie screenings through JioFiber — its recently unveiled home broadband service.
On Monday, Mukesh Ambani lifted the curtain from Jio Fiber, under which Ambani has made many big announcements. Ambani said that now through live fiber you can watch the film in your house on the day of its release. After this announcement, there was a big drop in the shares of two big multiplex operators. PVR shares fell 2.45 percent and Inox Leisure lost 2 percent.
However, the trust of multiplex players is still intact. According to a Mint report, PVR, the country's largest multiplex operator, which runs about 800 screens in the country, said that theater and home have two completely different experiences and both have their own space. Inox Leisure says that producers, distributors, and multiplex owners in India agree that there should be a film release of about 8 weeks in theaters and on any other platform.
In 2012, Actor Kamal Haasan had planned to show his Tamil movie Vishwaroopam on the direct-to-home platform. This had created many irks among the Theater owners and distributors.
He was much ahead of his time.



Yesterday Jio announced the JioFibreHome broadband services where subscribers will be able to enjoy the movie premieres in the comfort of their homes, on the same day as they release in cinema halls and movie theatres in India.
Just few years back when jio was introduced it revolutionized the way internet was used on smartphones with 1GB data per day & now with them getting into the broadband services with such revolutionary concept am sure there much bigger changes expected.
Would you still want to watch movies in theatres?
Would the ticket prices be slashed?

Would this create demand for growth of smart TVs / Home theatre / Electronic products?

How would the movie industry react to this move?

What could happen to movie budgets?

Can we still expect +200 Cr budget movies to be produced?
Inox Leisure, which operates around 600 screens in India, said, "This is a model that is followed internationally to ensure the strong financial viability of all segments of the sector." The producers of the film own creative content and are therefore entitled to choose a platform for the distribution and consumption of their content. Given India's low screen density and the potential for its development, PVR hopes that it will continue to expand in India for the next several years.
So Jio has announced new movie releases on their platforms along with cinemas. Well, it's a tough call, they certainly have the deep pockets, but the value chain of cinemas will certainly be disrupted! A new industry norm is the need of the hour!
On Monday, Ambani announced the roll-out of Jio Fiber from 5 September. It promises free voice calls while 100 Mbps minimum broadband speed starts at 700 per month as part of Jio Fiber's premium offer – Jio First Day First Show in its living room on the day of customer release Will be able to watch movies The service will be launched in mid-2020.
Well, technology can enable the availability of content to the consumer, but the experience of the big screen, nicely & well-thought interiors, the happiness of going out with the family cannot be disrupted.