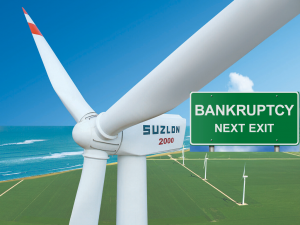 Suzlon's creditors have refused a 50% haircut on their loans and might push the company into bankruptcy resolution, Business Today reports. The wind turbine maker had a net debt of ₹7,751 crore in March 2019, but its market value has plummeted to just ₹1,500 crore. Suzlon's troubles started in July when it defaulted on $172 million of foreign currency bonds. The company was reportedly in talks with buyers, but a deal didn't materialize. Promoter Tulsi Tanti now holds less than 20% in the company; over three-fourths of it is pledged.
On the one hand, there is a cloud of economic crisis in India. On the other hand, some of the country's largest and most prominent companies are going through a bankruptcy process. Then the president of one more country has filed bankruptcy and is about to close.
According to the company, it incurred losses primarily due to lower volumes, foreign exchange losses, impairment losses, and finance costs which resulted in negative net worth in the last financial year.



According to media reports, wind turbine maker Suzlon Energy is on the verge of bankruptcy. The company has a debt of Rs 7,751 crore and the company is going through such a bad time that it cannot find a buyer to sell its property. According to bank sources, there is so much debt on the company that it has no other option for payment. Bank sources said the company's bankruptcy process will begin soon. The case will go to Bankruptcy Court National Company Law Tribunal (NCLT).
As per the report, the company had registered a total debt of Rs 7,751 crore till March 2019. In addition, the company borrowed Rs 4,000 crore of working capital in June 2019 for operation and financial need. Suzlon Energy has to pay Rs 1,928 crore in the current financial year, Rs 835 crore in FY 2021, Rs 926 crore in FY 2022 and Rs 4,483 crore in FY 2023. Which will continue even further.
When many billionaires surrendered their businesses for Insolvency in the last two years, Gujarati business man Tulsi Tanti, chairman of Suzlon, managed to scrape through the financial difficulties because of the generosity of the banks. This time the wind energy major is making huge losses and not in a position to repay any of its loans. Can it survive again with the help of its 'benevolent' banks?